Caistor vicar set to retire after almost 30 years
Caistor's vicar, who has christened babes in arms before marrying them as adults over almost three decades of ministering in the town, is preparing to retire.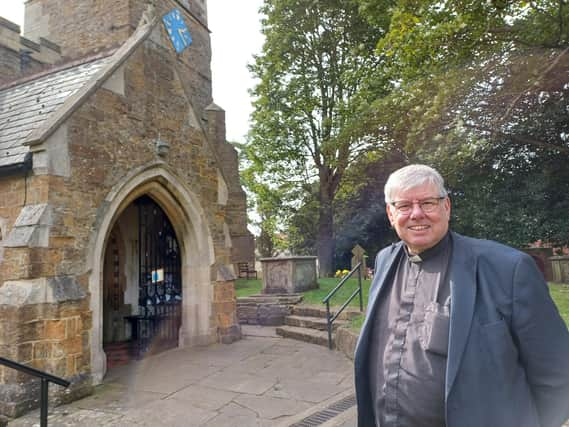 The Rev Canon Ian Robinson will say farewell at a special service in St Peter & St Paul Church on Sunday September 24, just two days before marking the 28th anniversary of his licensing.
"I will miss being part of this community," he said.
"It has been a privilege to be welcomed into peoples' lives – at happy times and sad times."
Rev Robinson is the first of his family to enter the church and this happened after spending ten years as a chemical engineer on the Humber Bank.
He said: "Although I enjoyed my work, I had always been inclined to ministry. In the end, my vicar said we needed to talk to the bishop and that led to three years at Lincoln Theological College."
The Rev Robinson's first role was as a curate in Scunthorpe. After about eight years in the town he was asked to look at Caistor, although he admits it wouldn't have been a natural choice.
"if had seen it advertised, I probably wouldn't have applied.
"I always thought of myself working in an urban area, but when I came and met people I decided it was somewhere I would like to be.
"The move to Caistor was something that was right and it has been a nice place to bring up our children."
Since the move, both the Rev Robinson and his wife Christine have been a big part of the community.
As well as having a nursing career, Christine was one of the founder members of the first responders, as well as being heavily involved with the Brownies and Rainbows.
In retirement, the couple will be leaving their Caistor vicarage and moving to Brigg.
Rev Robinson said: "I don't really know what I am going to do in retirement, but the first few months will be putting the house in order.
"One of the things I have always enjoyed is being involved with schools. I am on the Board of Education for the Diocese, so I will continue with that."
He continued: "I will miss the work and the people of Caistor and the surrounding area. I am so grateful to everyone for their support over 28 years, especially over the past year."