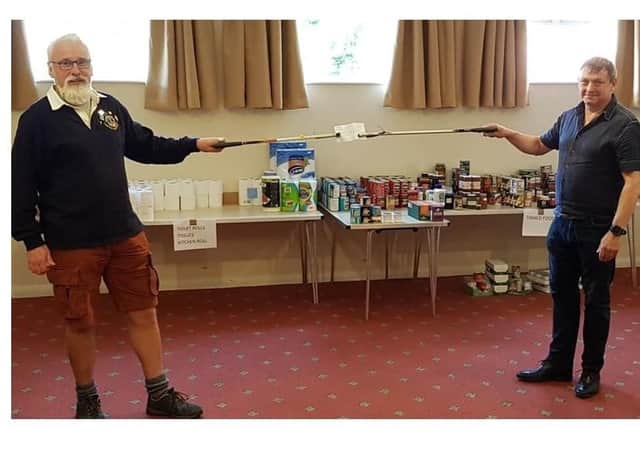 When the coronavirus pandemic first hit, town councillors led the way in setting up a volunteer group.
And when the call went out for volunteers to help, they were not disappointed.
The Caistor volunteer group was initially set up to help the vulnerable isolating during the coronavirus pandemic, providing shopping, medication pick- up and dog walking as necessary - with 55 people registered to date.
It wasn't long before their work expanded after realising there was a need to support those on very low or no income.
They currently provide 30 families with a care package each week.
Group chairman Coun Steve Critten said: "As usual, Caistor community spirit has shone through.
"We have more volunteers than people we need to help, which says a lot.
"The team work involved has been tremendous and so have the links with other groups in the area, such as MRAG in Rasen and Priory in Louth, to even closer to home the Nettleton and North Kelsey groups; all sharing resources and helping each other.
"This situation has certainly brought the worst and best out of people, but as usual in our wonderful town, the good by far outweighs the bad."
The group is now registered as a non-profit organisation and has opened a community bank account.
There is the facility to take payment for groceries by online transfer or by card, and volunteers shopping for people will soon be issued with pre-paid Soldo Mastercards.
The group also offers support to people with other issues, such as victims of domestic abuse and psychological problems.
Pastoral care is offered as well through regular phone calls.
The group has received more than £4,000 from various organisations and groups.
The latest came from Caistor & District Lions.
President Andy Gutherson presented a cheque for £250 to Steve Critten.
Andy said: "As Lions, we exist to support our community and deal with issues of need and hardship.
"A number of our members are, though, over 70, so are less able to be as active in the community as they would wish.
"Supporting the CVG is an easy way for Lions to support our community.
"Some of our members are heavily involved in the CVG too."
The Lions also provided £100-worth of Co-op vouchers and Lions International donated £500.
• Donations of tinned and dried food, toiletries, pet food etc for the reserve food store can be made at the town hall between 4pm and 5.30pm weekdays and 2.30pm to 4pm on Saturdays.