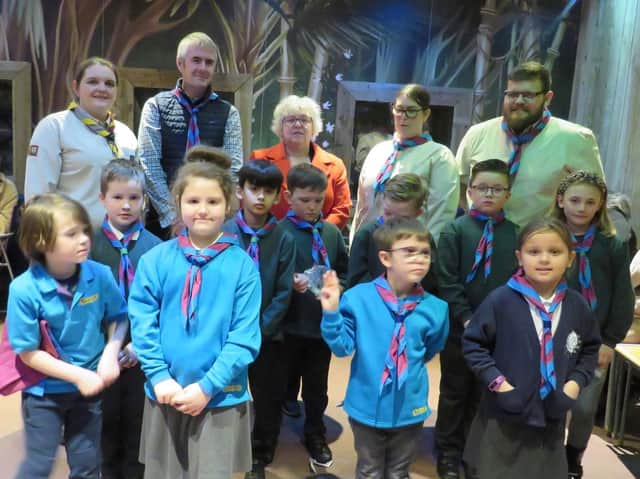 Fifteen young people and adults were invested during a special ceremony at the Lincolnshire Wildlife Park on Tuesday night.
Sarah Baumber, District Commissioner for Skegness and Spilsby areas, praised her scouts on their achievement in just a few months. "It's been quite a journey," she said.
"My colleges and I looked around the local area and found that Wainfleet had very few opportunities for young people.
"After some checking we found there used to be a scout group in the town, however this closed a number of years ago.
"So with the support of the East Midlands Scout development team, we decided to start a new Scout group in Wainfleet.."
The group launched its taster sessions at Coronation Hall at Easter 2019 and all was going well until the floods. "When Wainfleet was hit by the floods the development of the scout group was put on hold," said Sarah.
"We then restarted the taster sessions in September and were very pleased when the children and their parents came back to support the development of the new scout group."
At the ceremony, the new members were invited to officially be invested into the scout movement, make a public commitment to keep the scout law, and have a commitment to their local area and the world.
"Being invested is an important milestone in any scout's life, it's when they become part of the group and the World Scout movement," said Sarah.
"The local community is very important to scouting and with this in mind we were delighted when the Wildlife Park allowed us to have the ceremony there for all the young people and adults to be invested into the scout organisation at the same time."
Currently the group for girls and boys is running Beavers (age six to eight) and Cubs (eight-10.5) in Wainfleet but, hopefully, with more support it they will be able to open Scouts (10-14).
The group meets in term time on Tuesdays at the Coronation Hall in Wainfleet , attracting young people from the surrounding area, including Friskney
Wainfleet is the 5th group in the district, along with Alford, Spilsby and Skegness
To get involved, visit 1st Wainfleet Scouts on Facebook or call Sarah on 07411987745 or email [email protected]
Wainfleet group will be the 5th group in our district we have groups in Alford Spilsby and Skegness