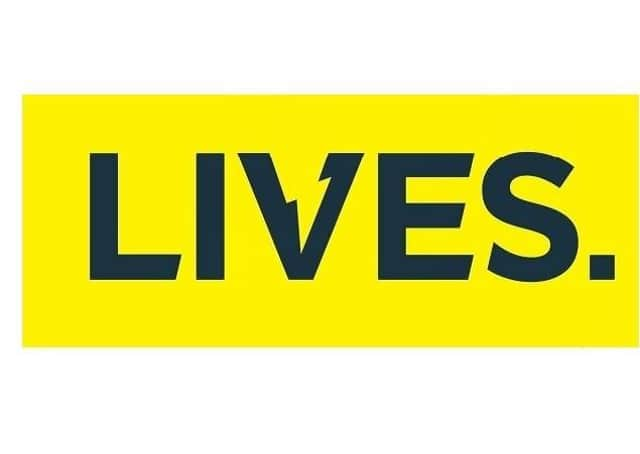 Each year, LIVES attend thousands of medical emergencies, including car accidents, heart attacks and strokes.
Between January 2020 December 2020, LIVES Responders arrived at 79% of incidents before an ambulance.
They helped 10,801 patients.
Without that help, some of those patients would have died.
I should know. I was one of them.
Last June, I was involved in an accident.
I suffered a serious head injury. I was unconscious and my heart-beat dropped to a worryingly low level.
A LIVES responder - and LIVES doctor - was on the scene within 10 minutes.
An ambulance arrived 20 minutes later.
The care I received from all involved probably saved my life although I still can't remember what happened.
Like most charities, LIVES' has been deeply impacted by the Covid-19 pandemic.
It costs around £1.4m a year to keep LIVES functioning.
There's no Government money - no matter how many lives are saved.
LIVES rely on fund-raising activities, donations and grants to train and equip volunteers, so they can be there when the worst happens.
Last year, income dropped by around £370,000.
As a result, LIVES have struggled to attend as many call-outs.
Your National World newspapers and websites across Lincolnshire want to help.
We know times are difficult but we're appealing for as many people as possible to make a donation to LIVES.
It might only be a small amount...it might just save your life.
They save LIVES now they need all our support
LIVES is Lincolnshire's emergency response charity that is dedicated to saving the lives of people in a 999 medical emergency.
A life can change in a heartbeat. It can hang in the balance in the blink of an eye.
And, it only takes one unpredictable event to start the clock ticking: a swerve in the road; a debilitating fall; a heart attack in the middle of the night.
These are the emergencies that have the power to turn lives upside down.
They don't care if it's night or day. They don't care if you're alone. They don't care if time is against you.
But LIVES do. An army of community-based volunteer responders give up their spare time for free to help people in Lincolnshire in their time of need.
In 2020, LIVES celebrated its 50th anniversary.
In 1970, two doctors, Dr Cooper and Dr Harper-Smith, came together to become the driving force behind LIVES and create a network of doctors to attend emergencies when time was playing a critical factor.
While ambulances were in place to simply carry patients to hospital, our founders knew that the Lincolnshire road network was making journey times long and severely delaying the medical intervention needed.
LIVES brought that medical skill that was based in homes across the county to the scene of the emergency.
From 1970 through to today, the passion for providing vital skills in a 999 medical emergency to our rural communities hasn't changed.
LIVES responders actions literally save lives, delivering vital immediate medical care in those critical first moments of an accident or emergency.
Each year, LIVES attend thousands of medical emergencies, including car accidents, heart attacks and stroke.
Between January 2020 December 2020, LIVES Responders arrived at 79 per cent of incidents before the ambulance and were able to help a total of 10,801 patients, administering essential treatment for:
• 1038 cases of chest pain
• 624 road traffic accidents
• 1207 patients experiencing breathing difficulties.
In total, 982 ambulances were able to be redeployed; increasing the capacity of East Midlands Ambulance Service (EMAS) and the NHS, ensuring more patients were supported right across Lincolnshire.
Nikki Cooke, CEO of LIVES, said: "We are so grateful to National World for supporting LIVES. It's so important to spread the word of LIVES and share the work we do in communities across Lincolnshire.
"We rely on donations from the public to ensure our responders can continue to be there for people in a 999 medical emergency. Thank you for your support."
LIVES also has more than 70 volunteer doctors, nurses and paramedics who respond to complex or traumatic 999 medical emergencies across 
Lincolnshire.
They bring critical care skills to the roadside, delivering complex procedures and treatments at the scene of the accident that is usually only found in an emergency department, operating theatre or Intensive Care Unit.
This may range from putting a patient into a "medical coma" at the roadside, through aligning severe fractures under sedation, and performing roadside amputation or opening the chest in a traumatic cardiac arrest.
First responder volunteer Trevor attends hundreds of emergencies
LIVES volunteers are always there.
There in times of an emergency. There when urgent help is needed and every second counts.
There with the big acts of heroism (and still there afterwards with small acts of kindness too).
They'll tell you it's just what they do. But it's more than that. When that urgent 999 call comes in, a volunteer being there can literally mean the difference between life and death.
LIVES volunteers are people like Trevor Monahan, from Skegness, a Community First Responder who has saved hundreds of people during his time with the charity.
After joining LIVES in 2010, Trevor reveals why he has continued to volunteer for over a decade.
He says: "I've responded to all kinds of jobs in my time, but one common factor is the sense of reward I get from helping people in their hour of need.
"When I arrive on scene before the ambulance, I'm able to reassure and often treat the patient with essential care until further help arrives."
Trevor currently works as an examinations invigilator at one of the local schools, but he still finds time to help people in his local community in their time of need. In fact, Trevor attends around 600 emergencies a year on behalf of LIVES.
He adds: "I've had quite a few memorable callouts, one involved an elderly lady that was hit by a mobility scooter, knocking her to the ground.
"On arrival, I used my LIVES training to assess the patient who was in severe pain and I could clearly see her ankle was dislocated and possible broken.
"The slightest touch made her scream in agony."
After escalating the call and requesting for further resource to help the patient, further support was dispatched to the scene.
Trevor explains: "I made the patient as comfortable as I could and continued to take and observations ready for the handover. I received a call that additional support was close, but access was restricted due to some building works taking place.
"Using my local knowledge, I was able to redirect them to a local cricket pitch.
"They arrived quickly and were able to give patient pain relief before straightening her ankle and transporting her to hospital."
Last year, Trevor won the LIVES Responder of the Year award after being recognised for his outstanding contribution and dedication to the charity and his community. Nikki Cooke, CEO of LIVES, has expressed her gratitude for his contribution.
She said: "Trevor is an extremely hardworking and valued part of LIVES.
"His commitment to his volunteering and his community is outstanding. Thank you for everything you do Trevor, we're so proud to have you as part of our team."
The charity, which turned 50 last year, has continued to support its communities in Lincolnshire by responding to medical emergencies when a 999 call is made. LIVES who rely on the support and generosity of the public to help them be there in call that could change someone life.#
During the pandemic donations have been severely affected.
The charity are calling for support to ensure their Responders, just like Trevor can be there for the next 999 call.
How you can help and donate
COVID-19 has hugely impacted LIVES' charitable income, with an expected loss last year in excess of £370,000 of the £1.4 million pounds the organisation needs to ensure Community First Responders and Medic Responders have the lifesaving training and equipment they need.
This year is no different.
Community events are still being postponed, social distancing is still having an impact.
The time is now. LIVES need to ask for your help to ensure they raise the vital funds needed to keep Responders on the road.
For more information on LIVES and the charity's work, you can visit their website at www.LIVES.org.uk.
If you would like to support LIVES, you can make a donation via their website or by contacting the fundraising team at [email protected]
LIVES volunteers receives no Government funding and the charity relies on donations from the public to continue with its life-saving services across the Lincolnshire region.