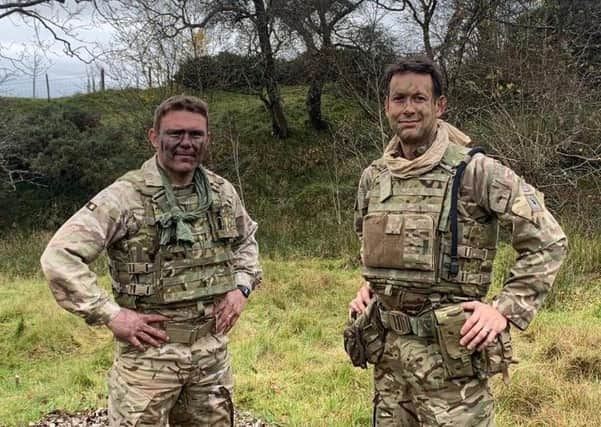 Melanie's sons John Rawdon, Erik Rawdon and David Rawdon will be heading to trouble-torn Mali in Africa.
The trio are in the Royal Anglian Regiment and, together, have completed an impressive 54 years' in the Army.
John is a Regimental Sergeant Major, Erik a Warrant Officer and David a Captain.
Because of logistical issues, the regiment is restricted to what they can take to Mali.
However, Melanie – who works at RS Wisby Butchers in Horncastle – is determined to send them with care packages containing essential supplies.
And. Melanie isn't just stopping at her three sons.
She's looking to raise £5,000 to send the entire battalion – called 'The Poachers' because of its Lincolnshire links –with packages.
The mission to Mali comes almost 13 years to the day since the three brothers signed up for military service.
Since then, they have completed tours all over the world, including Iraq and Afghanistan.
Melanie admitted: "I'm their mum so I never stop worrying about them.
"They love their jobs and are proud to serve their country.
"I know this is a peacekeeping mission but Mali is a very dangerous place.
"French peacekeeping troops are pulling out and 'The Poachers' will be taking over."
Usually, tours include a break but that is unlikely to happen because of global covid-19 restrictions.
She added: "All three are married and have young families.
"Six months away is a long time but I keep telling myself they will be OK – and they should be back for Christmas."
The battalion will be based in Sahel, one of Africa's poorest and most fragile regions.
Marked by chronic poverty, instability and high levels of general equality, it is very vulnerable to violence .
John and Erik attended Banovallum School while David was a pupil at Queen Elizabeth's Grammar School.
'The Poachers' include a number of other recruits from the Horncastle area - and the rest of Lincolnshire.
Melanie estimates each support package will cost around £20.
Packages will include much-needed hygiene products, reading material and treats.
She added: "They won't have mobile phones so it won't be easy staying in touch with them but hopefully the packages will provide some home comforts."
Alternatively, donations can be made at Wibsey Butchers, Melanie also has a list of items.