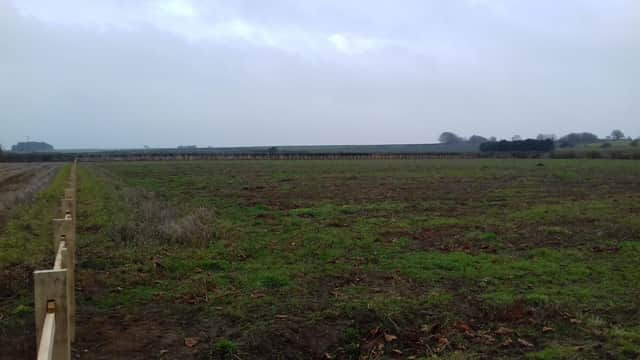 In a report before councillors at this month's Horncastle Town Council meeting, town clerk Amanda Bushell said: "In June 2019, Horncastle Town Council resolved to apply for a grant of £110,000 from the Public Works Loan Board to fund the contract for the following work at the new burial land:
a) To create a woodland driveway and internal parking area
b) To construct a cemetery store and toilet building
c) To resurface the main entrance car park.
"The loan was approved in September 2019 and the funds were received in January 2020.
"The contract work is almost complete, and there are just snagging issues to address.
"To date £160,028.78 has been spent on the burial land, which includes the purchase of the land at a cost of £42,450.
"There is a balance of £15,249.70 remaining in the New Burial Land budget.
"£6,064.72 has been allocated but not yet spent, and there is a contingency of £9,184.98 remaining.
"When Horncastle Town Council approved to borrow the funds to pay for the contract work, councillors were informed that following completion of this work there would still be work needed to complete the burial land and there would be enough funds remaining in the capital reserve to pay for this work.
"The balance of the capital reserve is £65,130.33.
"A list of work left to complete the burial land has been produced and quotes have been sought for each item:
1) Final layout plan (land surveying and plotting, and numbering of grave spaces) - £650
2) Land drainage and dig out pond to make deeper and landscape - £12,500
3) Cultivate, roll/level and seed land to give a level finish - £2,500
4) Fence around culvert and car park - £1,296
5) Create the internal roadways using reinforcing mesh – 300 metres - £12,320
6) Purchase slabs and cement for two years head borders to be created by the Estates team - £250
7) Plant trees as per approved landscaping plan - £1,500
8) Planting of shrubs, wildflower area and spring bulbs - £800
10) Water butts on storage building to collect rainwater - £50
11) Electric hook-up on 
storage building - £500
12) Additional items that will be needed:
· Life ring and housing for pond - £80
· Radar lock for main gate- £20
· Internal roller shutter door - £1,150, bringing that to a total of £34,216.
The final projected cost for the whole project is £209,494.48.
"It is anticipated that the new cemetery will have enough grave spaces to serve the community for at least 200 years."
At this month's town council meeting, there was a recommendation about using £34,216 from the capital reserve and placing it into the new burial land budget.
Speaking at the meeting, Councillor Brian Burbidge said: "Drainage work is one of the things that has created a bit of a problem and it wasn't anticipated.
"The work that is required is absolute because we have to lay the drainage in line with where the burials go to avoid the burials.
"There is an initial survey and an initial laying out which has also included where the graves will be.
"Once that is done, the work can go ahead, the drainage can be laid, the plan is there.
"From then on we have got a long-term graveyard which is planned for 200 years, but it could be longer."
Councillor Matt Wilkinson raised concerns over spending £12,500 on drainage for a drainage problem to then exist in the future, but town clerk Amanda Bushell reassured him that the final layout plan will go before the drainage people.
Councillor Richard Barker said: "I would prefer to have sight of all the paperwork because I asked questions of the Estates Committee regarding the initial budget and what the contract let includes.
"You have now listed extra works to be done which amount to £34,216.
"I had it in my mind that when this project was first introduced, the approximate cost excluding the land was going to be about £120,000.
"That seems to have been exceeded by a lot of money.
"I accept that the land drainage problem has come to light - the question I would ask is how was the ground survey originally done and why didn't it come to light before the final budgets were put together, because I am not happy that we now dip into the reserve fund to find £34, 216.
"We have already committed, if this new recreation area goes ahead, to commit to £50,000, so we are up to £80,000- plus.
"We have borrowed £100,000.
"I am just worried that money that is being spent isn't being properly controlled."
In response, Amanda said: "It was always the intention to fund the remaining work using council reserves.
"When the council made the decision to borrow £110,000, an estimation was given of the amount we would take from reserves to complete the project.
"Councillors have always been informed that the amount we borrowed would not finish the job so council reserves would need to be used.
"We have had £65,000 in council reserves for maybe 10 years and we need to use council reserves.
"The money doesn't need to just be sat there.
"It isn't gaining any interest.
"The money needs to be used to deliver something.
"The council borrowed the minimum amount so they could complete the project using council reserves."
Coun Barker added: "I hear what you are saying Amanda but we are about to inherit or get asset transfers given to us by East Lindsey District Council.
"Do we know the likely cost of that?"
Town mayor Coun Fiona Martin explained: "Capital reserves can only be used for capital projects .
"Any capital projects we decide to move on with the assets we have taken over will be up to us as a council to decide how to fund.
"We will take the asset on as it stands and then it will be up to us to decide if a capital project could be put upon it.
"We have taken the assets on knowing there are capital projects to be undertaken."
Coun Burbidge said: "We examined three patches of land - the first two that we investigated, one was so dry and hard we would not have been able to dig it properly to get graves correctly.
"The second one was so wet and the third one there was no sign of water whatsoever during days of rain and after days of rain - it just didn't materialise.
"It was something that we could have never found out until it happened.
"Due diligence was carried out and an investigation was done on all the three plots of land to find the most suitable.
"We are looking at completion of the project sometime in 2021 but definitely 2022 - that is how close we are.
"We are limited to that and we really do need somewhere to bury people."
Councillor Mark Everton added: "My background is in the ground work and I think we have got some issues in the ground work you have got at the site.
"I have been there this week and I took away some of the tarmac.
"I seriously think we need a meeting as soon as, and we really need to sort that out.
"It is not just the tarmac but there are several issues that need addressing."