Care home resident excited to receive 100th birthday card from new King
A resident at a care home along the Lincolnshire coast has become one of the first in the county to receive a birthday card from the new King on reaching her 100th birthday.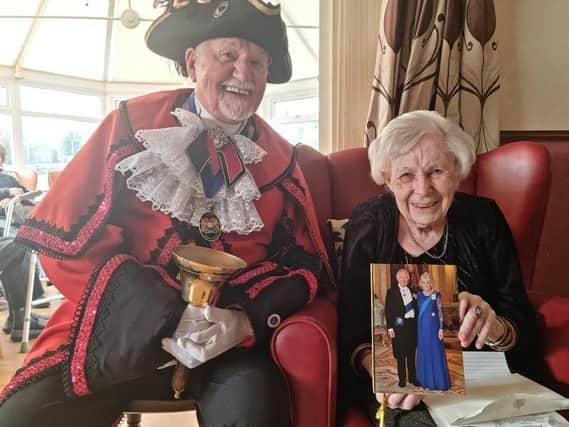 Margaret Myers was in sparkling form in a pretty two-piece outfit as she excitedly opened her special card, signed by Charles R and Camilla R.
The card from "my wife and I" wished her "warmest congratulations and heartfelt good wishes".
It was just one of the highlights arranged for her at the Newhaven Residential Home in Huttoft – with staff especially excited as Margaret is the second resident they have cared for to celebrate becoming 100.
Even the hard of hearing couldn't have missed the announcement of her big day by the coast's the Town Crier, David Summers.
He exclaimed: "I am proud to shout the news, she is 100 years old today. Happy birthday Margaret! God save the King."
Margaret has been a resident at Newhaven for just over a year. She and her late husband, Frank, had retired to Mablethorpe from Hastings, where they ran a pub and restaurant.
A popular resident at the home, her niece Susan Lee said she has always been a character.
"Margaret has always loved to look glamorous and go shopping for nice things," said Susan, who went along for the big day "Until she was 90 years of age she was still going on holidays abroad and visiting friends in Spain.
"We are very proud of her."
The youngest of six children, Margaret has always kept her age private until the excitement of becoming 100.
Care manager Sharon Evans said: "Margaret is a lovely lady and is still quite active and loves getting out and a bit when she can."
Celebrations continued through the day, with a pianist booked for the afternoon.
Then on Saturday, there is a family party with a violinist.
Her secret to a long and active life? Margaret says: "Never do anything too much or for too long. And enjoy life and never waste a moment because you never know when it will be your last."