Care homes doing best to keep families in contact
New Government guidance enabling relatives to safely keep in contact with elderly loved ones has been welcomed by Sleaford care home bosses.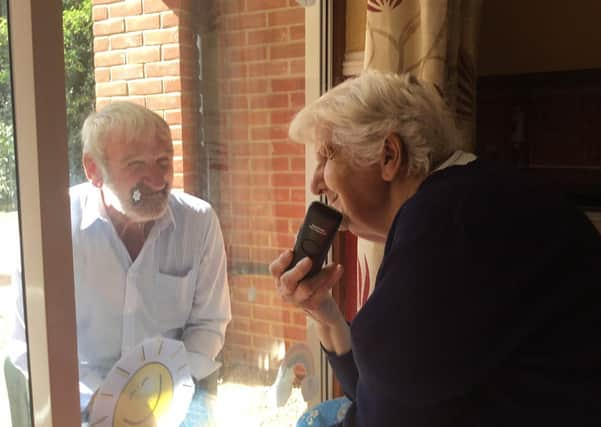 The news comes after matters came to a head last week when a woman was temporarily arrested in Yorkshire for desperately trying to remove her mother from a care home after being kept apart for months due to restrictions to prevent infection.
All care homes, especially those who have not allowed visits since March, will be encouraged and supported to provide safe visiting opportunities for family and friends tailored to circumstances. Suggested measures include floor to ceiling screens, visiting pods and window visits as seen in some innovative homes.
Jilly Hunt, manager of Ashdene Care Home in Sleaford said the system cannot be "one size fits all".
"I want to put a protective shield around the residents and staff team and keep them from the virus, but I also know that the years are advancing on most of our residents and the longer this goes on the time that they have left to spend with their loved ones is shortened. It's about risk versus wellbeing.
"I find it heart breaking for my (residents') relatives as some are isolated at home by themselves and Ashdene is normally part of their daily life, normally our home is a very busy home for visitors and we have relatives joining us for meals and parties and sing songs, so we regularly chat to them and make sure they're ok as well.
"I can see it from both sides as my mum is in a care home and I haven't seen her since early March."
She added: "At Ashdene we will be continuing with window visits at the moment (this has been well received by our relatives) and are in the process of building a cabin in the side garden that can be used for visitors as it will be separated by a screen and will mean that the relatives won't have to enter the main home so from an infection prevention point of view it lowers the risk and will be warm and dry through the winter months."
They also enable people to stay in contact through Facetime, Whatsapp and Messenger and their Facebook page has proved extremely popular with daily photo updates.
They also enable end of life visits. When the relative comes into the home they have their temperature checked, they are asked to bring a change of shoes that they have not worn outside for three days, they are asked to wash their hands and then don PPE.
Jilly said: "I find one of the hardest things is that the relatives can't have physical contact such as hugs and kisses, we make sure we provide those as staff wear clean uniforms everyday and wash their hands regularly and wear PPE. Part of a person's wellbeing is physical contact."
She welcomed the introduction of testing professionals who regularly visit and they are taking part in a study called Vivaldi, where residents and staff will have regular blood tests to track the virus and antibodies.
Melanie Weatherley, chairman of the Lincolnshire Care Association said: "We understand the importance of keeping in contact with loved ones, but also need to keep people safe. This is a difficult balance to get right.
"The government guidance is now available and looks supportive of visiting where it is appropriate for the individual and can be managed safely. But, social distancing is still required, so it may not meet the needs of everybody."