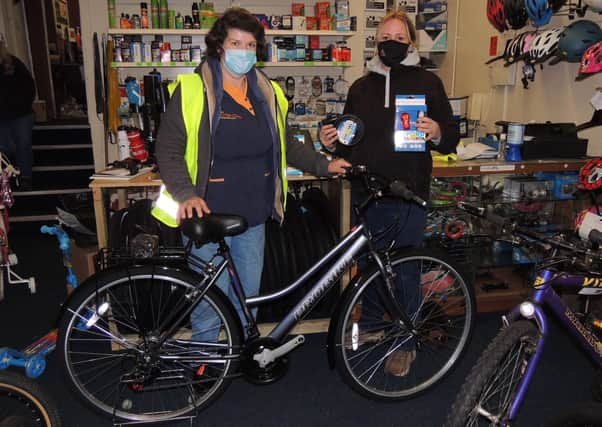 The theft compounded the misery of Janet Brummit, of Station Road, Sleaford, who had been knocked off her bike and injured just days before.
But in a heart-warming gesture, locals have chipped in for a new bike in recognition of Janet's efforts over the last year, throughout the pandemic, caring for the town's vulnerable elderly people.
Her sister, Sally Hughes ,set up a Justgiving fundraising page and people quickly donated £500 to buy a new bike from Riverside Cycles in town, along with a high visibility jacket, gloves, helmet and a strong padlock.
Thanking everyone for their kind donations, Sally said Janet does all her rounds by bike in all weathers, from one end of town to the other. "My sister has a massive heart," she said. "She has worked non-stop throughout the lockdown. She never grumbles or ever lets any of her elderly residents down.
"Of course she doesn't earn a lot of money for doing this. To me she is a local hero and I think she deserves to be recognised for this. I just wanted her to be safe and sound on the road as she works "
Janet said on Monday at the bike shop: "I'm a bit overwhelmed and very surprised, but thankful. The people in Sleaford have been very generous."
She explained she had been turning off Grantham Road into King Edward Street as a car was turning out in the opposite direction, when the collision occurred. "The next thing I knew I was on the floor," she said. "The driver picked me up and took me to Sleaford Medical Centre with a banged knee and a couple of bruises on my legs."
She had to miss a couple of days' work but quickly returned. Then while visiting a client in Sibthorpe Court flats on London Road, she said: "I locked my bike up and was gone 20 minutes, but when I got back it had gone."
Her employers, CRG, put the word out on social media trying to find it and helped her borrow a bike to continue on her rounds.
Janet said: "It was turning into a bad week and these things happen in threes, but this has been a really nice surprise - I'm really chuffed."