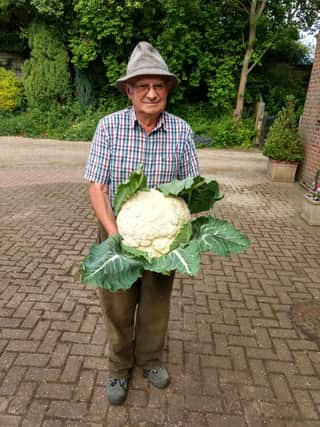 Colin Dickinson, 80, has grown the giant vegetable in his garden using nothing but organic vegetable feed, and it weighs in at a whopping 14lbs (6.35kg).
To put it into context, the average medium-sized cauliflower head roughly weighs up to 2lbs (just less than 1kg), making Colin's enormous vegetable nearly seven times the size of the average cauliflower.
Colin said he has been growing vegetables for more than 60 years and this was the biggest he has ever cultivated.
He has since given the cauliflower away to friends in the village to dine on.
The world's largest cauliflower was grown in 2014 just across the border, by Peter Glazebrook of Halam, Nottinghamshire, which weighed a staggering 60lb 9.3oz (27.48 kg).