Children can help brighten care home residents' days
Town and District Councillor Robert Oates has launched a scheme for children to share a little happiness with isolated care home residents around Sleaford.
The Rainbow Post will deliver cheery letters and pictures from young people to elderly residents that have limited contact with the outside world, including loved ones and friends throughout the past year due to the risks of infection during the pandemic.
Coun Oates said: "The idea for the Rainbow Post came from Emma, one of my young local residents who is at home from school and wanted to do something to cheer up elderly people who are often still isolated and not having a normal life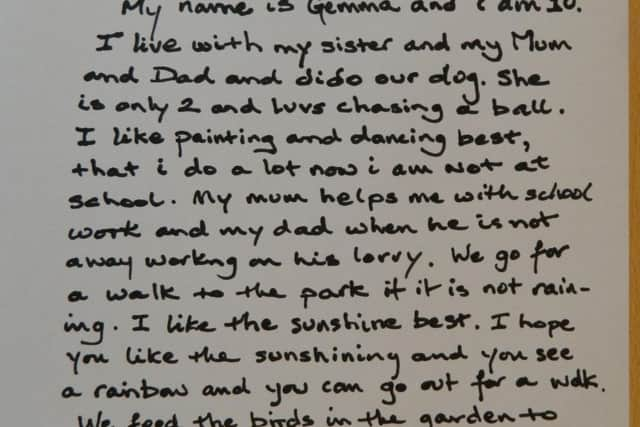 "I thought this a wonderful way of giving young people something creative to do which will also brighten the day of care home residents."
A similar scheme was initiated during the first lockdown last year by a few parents who invited school children to send in pictures and messages, via a couple of home made postboxes, to residents at Holdingham Grange care home.
Emma's mum Mel said: "After having to shield for a short period of time, Emma and I realised how lonely it must be for those in care homes, not being able to see or embrace family or friends for many months. Our aim was to bring a smile to some faces, so we combined a handwritten card with a printed poem and a painted picture postcard made by Emma." 
Holdingham Grange residential care home was again the first to receive Rainbow Post for their residents, delivered by Coun Oates.
One from a 10-year-old called Gemma included: "I hope you like the sun shining and you see a rainbow and you can go out for a walk."
Coun Oates said young people in Sleaford are asked to support the Rainbow Post by sending in cheery letters about themselves and maybe what they like doing, their hobbies, their pets and how they are keeping active during the lockdown. Nice bright hand-made pictures are also wanted. The letters should just say 'Hello' and be signed with a first name only. Letters should not include the young person's address.
Letters and pictures should be sent to Rainbow Post, PO Box 10975, NG34 4FE.
Coun Oates will then deliver the Rainbow Post to care homes around Sleaford.
The Rainbow Post will not be able to send replies, but Coun Oates says each young person who sends a message will know they are helping to brighten the day of an elderly person. A selection of Rainbow Post letters and pictures will appear in a future edition of The Standard.