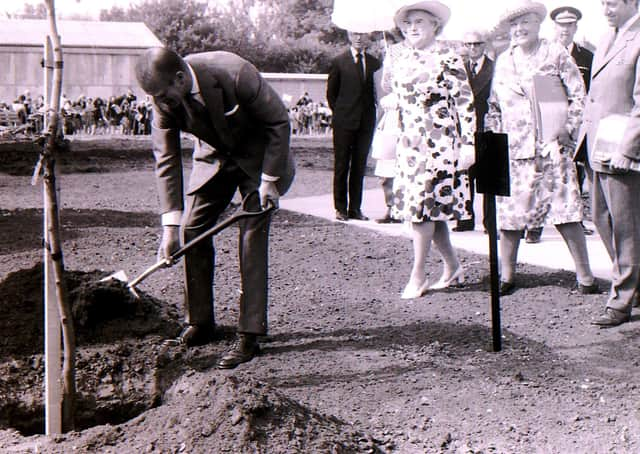 Sleaford and District Civic Trust has also come up with some memories of the day from their archives by former member Helen Vidal.
Miss Vidal was the first honorary secretary of the Trust and she explains in a 1999 copy of the trust's newsletter that it stemmed from a visit to the Civic Trust Conference at the Banqueting House in Westminster where she was the final speaker of the day and went down very well with Prince Philip, who was there as patron of European Architectural Heritage Year.
In early 1975 she was contacted to say that the Duke of Edinburgh was going to visit three of the European Architectural Heritage Year schemes and he had chosen Sleaford, Norwich and King's Lynn.
The trust had been overseeing projects to develop the Eastgate Green, The Cut (a disused channel of the old canal) and a tilting gate and weir on the river near Carre Street.
Miss Vidal made sure the riverside green was ploughed and grass-seeded, rubbish cleared, paths laid and trees planted, as well as an attractive wrought iron bridge lowered into place.
She writes: "At 4pm precisely, a huge Wessex helicopter landed in Lollycocks Field, next to the council offices."
The visiting party led by the Duke got out to meet the Lord Lietenant, the Earl of Ancaster and civic dignitaries.
Miss Vidal recalls: "He walked around chatting in a most friendly way. My chairman and I took it in turns to tell him what we had done. he looked at the bare soil of the riverside green first and then planted a tree to commemorate the day."
They crossed to view The Cut, which had been turned into a water garden by members of Lincolnshire Trust for Nature Conservation. "What are you planting?" he asked one busy member.
"We were given a frog this morning," said one.
"You might get on better with two of them," was his reply.
He went on to view the crane lowering the tilting gate into position on the weir before seeing other improvements such as Nag's Head Passage, which the Trust had saved from demolition and had been restored.
They reached the station and the Royal visitor left by the royal train.
Miss Vidal writes: "It was a momentous visit for Sleaford – the townspeople turned out in their hundreds to see and cheer the first official visit for centuries."
○ Go to www.sleafordstandard.co.uk for more stories on the Duke's funeral and a photo gallery of his visit to Sleaford.