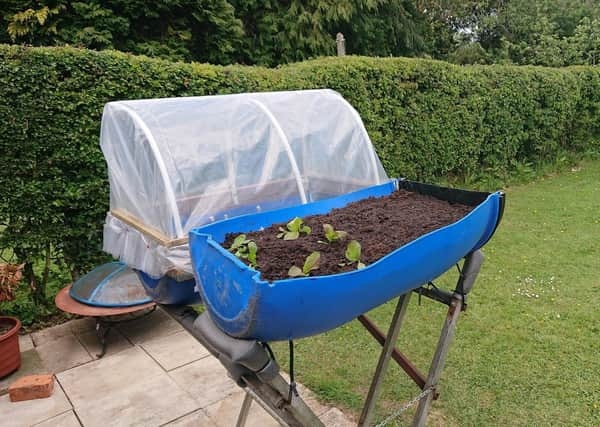 We have partnered with Chestnut Homes, who is offering the prize for the most creative garden project carried out in the county during lockdown.
But with the deadline for entries to its summer gardening competition now less than two weeks away, the Lincolnshire housebuilder is encouraging those who haven't already done so to send in a photo of their eye-catching horticultural endeavour before it's too late.
Steve Bark, Landscape Gardener at Chestnut Homes, said: "We have already received many entries from across the county displaying a wide variety of imaginative projects.
"From incorporating natural wildlife into the garden, to sprucing up their outdoor area with a variety of flowers, and finding a way of recycling old belongings to give them new and practical uses, the sheer range of entries has been extremely impressive.
"While the size of some of the projects has caught our eye, bigger does not necessarily mean better in this competition.
"Ultimately, we are looking for the venture which demonstrates the most creativity and imagination.
"With the deadline fast approaching, I would encourage all amateur gardeners to send in a photo of their project now for the chance to win this fantastic prize of £500 in gardening vouchers."
To enter Chestnut Homes' competition, email a photo of your entry to [email protected] .
Don't forget to include your name, address, phone number, and a sentence to explain your project.
The deadline to submit your entries is Wednesday, July 22, 2020, and the winner will be announced shortly after.
Employees and family of employees of JPI Media and Chestnut Homes are unable to take part in the competition.
Chestnut Homes will select the winning photo. The winner will be contacted privately and then announced in the paper at a later date.
By submitting a photograph, you are agreeing to take part in subsequent PR and marketing material for Chestnut Homes.
Submitted photos must have been taken by the person submitting the image and be of their own property/ garden.
Only one entry will be accepted per person.
The winner will be photographed with their winning photo and given their £500 prize at the nearest Chestnut Homes development to where they live, to be used as part of the announcement in the paper.
By entering the competition, you are allowing JPI Media and Chestnut Homes to use your photo.