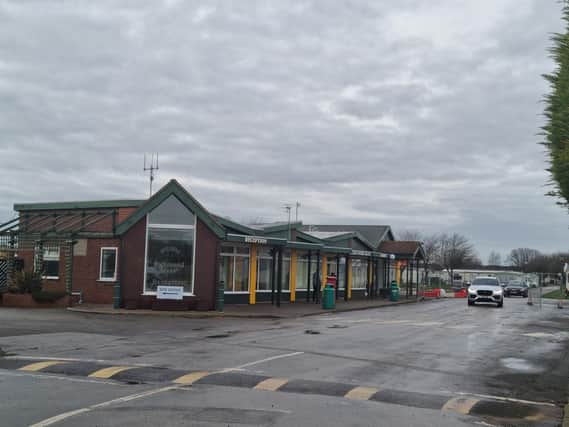 In spite of the former Richmond Holiday Park being closed for winter notices have been attached to vans warning occupants of the proposed changes by new owners Bourne Leisure.
Operating under the brand Haven, the company has applied to East Lindsey District Council for permisison to refurbishment f central facilities and associated external areas. The purchase of Richmond Holiday Centre marks Haven' s first acquisition of a holiday park in six years following the growth in staycations. It is also the operator's first since its acquisition by Blackstone last year.
Plans include creation of new internal road and car parking area; the development of outdoor activities area to include container bar and yard, caravan sales show area, stage and screen, kart hire, and play area (with associated infrastructure, hard and soft landscaping and drainage works); the alteration and installation of external air handling equipment; and associated external alterations to existing buildings.
A statement reads: "The price premium holiday guests are prepared to pay has been recognised and experienced
by Bourne Leisure in recent years. As such, the Company aims to meet the new levels of
demand with improved levels of accommodation; park standards; services; entertainment;
eating establishments; and other facilities. Two examples of this investmenti include:
• An application was submitted in September 2022 for the replacement of the existing
touring area at the Park (comprising 58 touring pitches) with 40 new static caravan
• An application for a western extension to the Park, comprising the delivery of 193 static
• A new adventure village that was completed in 2020
• 37 new static caravan pitches – to be located in the north-east corner of the Park
Bourne Leisure (under its 'Haven' brand) now owns Richmond Holiday Centre and has
rebranded it as Haven Skegness Holiday Park ("SHP"). As part of the rebranding process,
Haven is seeking substantial investment to meet changing visitor
2.7 SHP covers approximately 19 hectares and currently provides 935 static pitches and 58
touring pitches. SHP is located approximately 1km from Skegness town centre. Facilities within SHP include (amongst other things):
• Family room bar & restaurant;
The main element of the proposed development will be the delivery of a new central piazza
area and the reconfiguration of internal vehicular access and parking arrangements. The
proposed piazza will include spaces for outdoor seating and will also comprise the following
• Caravan sales show area;
• Stage and giant screen;
• Container Bar and 'Sweet Treats' container/kiosk; and
of a new and high-quality central facilities area at SHP will enhance the Park's
attractiveness to guests; new jobs will be created through construction and support will be
provided more widely to existing businesses within Skegness as a result of more guests
visiting SHP; the proposed landscaping scheme will secure ecological and visual amenity
benefits; and the reconfigured access/parking arrangements will improve accessibility and
increase environmental sustainability.