Congratulations to RNLI volunteers taking helm after final assessments
Skegness RNLI is celebrating after two volunteers passed their final Helm assessments for the D class inshore lifeboat.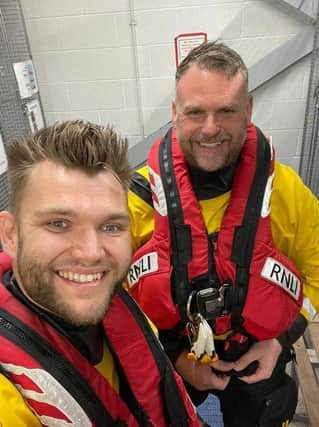 Martin Stokes and Lewis Knight have been on the crew since 2019 and 2017, respectively, and have progressed from shore crew to the positions of crew members for the Shannon class lifeboat and now Helm on the D class inshore lifeboat.*
The role of the helm is to take command of the boat and the crew aboard it.
Both Martin and Lewis are local and volunteer for Skegness RNLI Lifeboat Station alongside their busy family and work lives.
Becoming a helm of an inshore lifeboat requires additional training with specific exercises and a final assessment by an external RNLI Assessor, which usually takes around two years.
Commenting on the pass out assessments, Martin said: 'I am delighted to pass out as a Helm at Skegness Lifeboat Station. The whole day was so well organised that it lifted much of the initial pressure. I cannot wait to continue volunteering for my community in my new role on the station, something I enjoy so much.'
Lewis said: 'I am grateful for the support and help given throughout the process to get to this stage by my friends and colleagues on station. I feel fortunate for the opportunity to apply myself in this leadership role.
'Thanks must also go to the great Assessor Trainers that the RNLI provides to help with the process.'
Martin and Lewis will be operationally ready in time for the busy summer season on the East Coast.
Senior Helm at Skegness RNLI Lifeboat Station, Lee St Quinton, said: "'Achieving helm status and commanding one of our lifeboats is no easy task. A successful pass out is a testament to the many months of hard work and determination that has taken place."'
Besides their RNLI volunteering, Martin and Lewis have family lives and careers. Lewis spends time with his young family, is an international professional touring musician in various theatre production shows, and volunteers at Humber Lifeboat Station.
Meanwhile, Martin owns Stokes Electrical and S2 Appliance Repair and spends time with his family and Labrador and can regularly be found enjoying free time on his motorbike on the local country roads.