Coningsby Cadets recognised at annual presentation evening
The Air Cadets at 17 Squadron Coningsby recently held their Awards and Trophies presentation evening.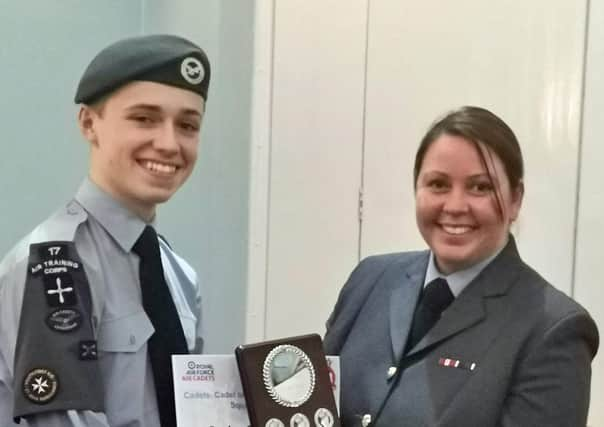 The awards were presented by a variety of VIPs including Wing Commander Warner, Trent Wing Chaplin Bowman, Flying Officer Harvey Denford,  Flying Officer Sam Parke and  Jan and Richard  Adams, from the Woodhall Spa Singers.
Flying Officer Andrea Nash Officer, in charge of 17 Squadron, said: "The evening recognised the cadets individual talents and hard work over the past year and to see these efforts rewarded in front of family and friends was fantastic. 
"All of the cadets can be justifiably proud of all of their achievements.  Well done to all!"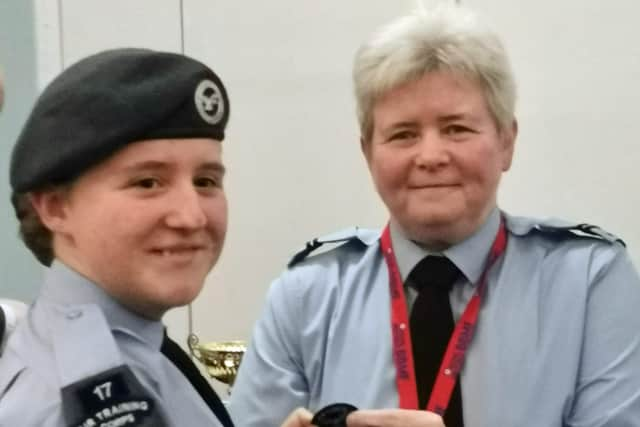 The 17 (Coningsby) Squadron Air Training Corp Award for the Best Cadet Training Flight (CTF) was presented to Cadet Amelia Goodchild.
Cadet Goodchild was presented with the award in recognition of putting in the most effort in developing herself as a cadet during her time in CTF flight.  
She was a very quiet cadet when she started in CTF Flight.
She has proceeded to make good progress during her training to First-class Cadet.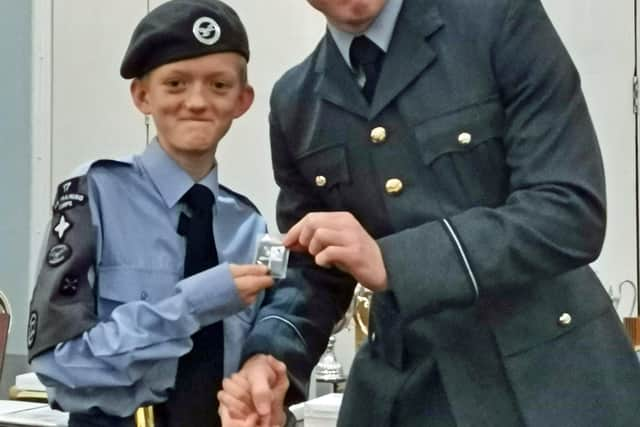 Since leaving CTF Flight, she has continued to flourish as a cadet, and grown more and more confident on the way.
The 17 (Coningsby) Squadron ATC award for Best Academic Cadet was presented to Corporal Lucy O'Sullivan.
Corporal O'Sullivan was recognised for putting in the most effort to further her cadet development during the past year.
She has always managed to achieve an excellent standard throughout her academic training and taken on the challenge to beat the odds and strived to the finish line in the quickest time.
Corporal O'Sullivan, is never under pressure because she is always prepared and has achieved excellence at every level.
The RAFA Coningsby and District, Best Sporting Cadet award was presented to Corporal Verity Dixon. 
Corporal Dixon has best represented the squadron at sports on all levels, within cadets and out.
She has represented the squadron on many levels, and always works hard to make sure that they are on top form and excel in sport.
In addition, Corporal Dixon, has gone above and beyond outside of cadets and has transferred those skills on to the pitch when representing the squadron, Wing and region.
The RAF Coningsby Station Commander's Trophy for Best Representation of 17 (Coningsby) Squadron ATC was presented to Cadet Joshua Pearson.
Cadet Pearson has represented the squadron at the most public activities throughout the year  including Remembrance parades, poppy selling, Spa singers, bag packing, Poppy launch and more.
He is a dedicated cadet, and will assist to promote the squadron in the community to the highest standard.
Whilst he may be one of the quieter cadets in the squadron, he has shown his pride through his actions rather than words.
The Martin Baker Award for best attendance was presented to Corporal Thomas Vasse.
 Corporal Vasse has the best attendance record as recorded on BADER, the cadet recording system and all cadet attendances are recorded each month.
With an attendance record of 97 per cent, he has shown his dedication to 17 Squadron.
The 17 (Coningsby) Squadron ATC Civilian Committee Award was presented to Cadet Charles McNab.
This year, the committee had a little dilemma as three cadets were in the running for this award.
After long discussions and debates they chose Cadet McNab for spending time to support younger cadets and assist the civilian committee to keep things straight at NAAFI time.
He is also helpful and reliable, and willing to fill other people's shoes at a drop of a hat.
The RAF Battle of Britain Memorial Flight Award for the Most Improved Cadet was presented to Cadet Mollyann Sabin and Cadet Rose Cordery.
This year the award was presented to two cadets, as the staff felt that both cadets have shown positive improvements.
Cadet Sabin and Cadet Cordery have always tried their best, but did not always succeed.
But since gaining more experience they have succeed more and more.
They have continued to make improvements in all aspects of their cadet careers, with their ability to be part of a team, their confidence now starting to show and put their hand to almost everything and their continuous positive outlook.
The 1265 (Horncastle) Squadron ATC Shield for Endeavour was presented to Cadet Mollyann Sabin.
Cadet Sabin has been considered to overcome some of the biggest obstacles in order to fulfil her whole cadet experience.
Cadet Sabin has managed to achieve many new experiences this year, and continued on, no matter what has been thrown her way.
Having managed to put aside her difficulties and makes friends with everyone they meet. She is a very active member of the squadron and keeps squadron staff on their toes (Mainly running in all directions).
Cadet Sabin has taken her illness on the chin, and refuses to let it beat her.
The 17 (Coningsby) Squadron Air Training Corps Award for the Best Cadet was presented to Cadet Anthony Kennedy.
Cadet Kennedy is the Best Cadet, not a Non-Commissioned Officer. He is considered to be the best overall cadet throughout the year.
Even though, Cadet Kennedy has been with the squadron for some time.
This year he has grown in confidence, maturity, and faced the challenges of the cadets head-on.
He will go out of his way to make sure things happen, and will always volunteer for community events.
The Royal British Legion Award for the Best None Commissioned Officer (NCO) was presented to Sergeant Sarah Plowman.
Sergeant Plowman is the NCO who has performed best overall throughout the year.
She is a dedicated member of the squadron. Even though she was only promoted this year, she has taken on the challenge with full determination and has pushed through all the challenges that have appeared, and shown the spirit an NCO should have.
Sergeant Plowman is a great role model for other cadets and is a valued member of the squadron.
The 41 Squadron RAF,Award for Cadets' Cadet was awarded to Tom Mickle
This is a very special award as it is voted for by all the cadets on squadron, where each cadet has the chance to vote for the cadet that they feel has risen above the rest throughout the year.
The RAF Coningsby Station Commander' s cadet was presented to Corporal Verity Dixon
This award was chosen by Flying Officer Andrea Nash who is the Officer in Charge 17 Squadron.
Corporal Dixon is to act as the squadron representative at station functions and activities and  may be called upon to attend mess and social functions.
This is because she has a mature nature and has shown confidence and display tact.
She has shown all the characteristics needed to fulfil this position, and will indeed be a great representative for the squadron.
The 17 (Coningsby) Squadron Air Training Corps Ellis Trophy for Officer in Charge's Cadet   was presented to Cadet Tom Mickle
This trophy was instigated by Phil Elliott who was Officer in Charge (OC) of the squadron when it stood up back in July 2011 and was awarded  to
Cadet Tom Mickle as chosen by the current OC of the squadron, Commander Flying Officer Nash.  
She said: "Although this was a very difficult choice, as many cadets fitted the criteria I managed to make a decision.
"Cadet Tom Mickle, has shown, true grit and determination throughout the year, and has shown he is  a dedicated member of the squadron".
• The Corps is open to all young people between 12 and 17 and provides a wide range of activities.
Younger recruits and adult volunteers are always welcome.
If you are interested in finding out more call on 07928 214981 or email [email protected]