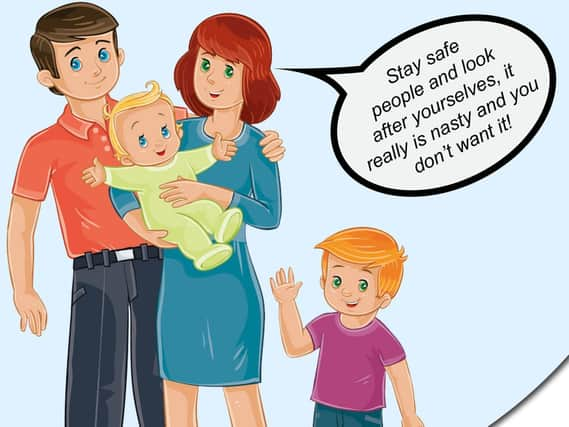 The council is looking to keep pushing the message of the dangers of the virus after figures published on Sunday showed Boston remains one of the worst places in the whole country for infection levels.
It was sixth out of every single local authority in the country in terms of the rate, with
with 434.6 cases per 100,000 of the population.
That figure has come down from the peak at the end of last week of 547.2 per 100,000, which put the district as the second highest in the UK, but it is still way above the England average of 149.5 and the Lincolnshire rate of 243.6.
In its latest bid to impress upon residents the importance of doing everything possible to tackle the infection, the Council has published on Facebook an account of how badly one family was hit after all four of them tested positive.
It states that the family had to stay inside for three weeks, not even going out for a walk. Names used have been changed.
The mum says: "I've always taken Covid seriously but I never thought for a minute that after the feeling poorly part had finished I'd be suffering with effects.
"Sam and I both struggled with getting out of breath and loss of taste and smell and as a family we all tire so easily.
"So just remember next time you want to take an unnecessary risk or say it's just flu, it's really not! It's heart-breaking having to tell your children you can't lift them up, or chase them up the stairs, or dance with them because it leaves you breathless and wiped out.
"Or how sad it is to bath your kids and not smell that sweet smell of their washed hair as they snuggle up in clean fresh pyjamas. Or when you first get it and you don't want to pass it so you can't kiss them, or simply blow their dinner to cool it down, the fear of who you might have past it too or still infect.
"It's hard caring for kids when you are poorly yourself but this has been a new level for us. The worst bit is not one person can come and help you not matter how much they want too!
"Stay safe people and look after yourselves, it really is nasty and you don't want it!"