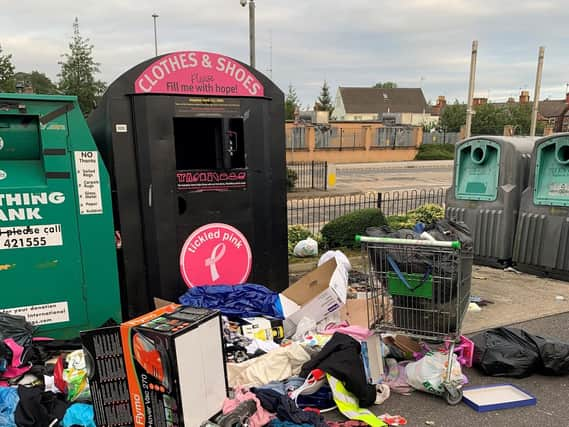 The closure comes shortly after pictures were posted on social media of people climbing up onto the bin and throwing the clothes onto the pavement.
The council recently warned it was cracking down on people who dump waste alongside recycling sites after a growing number of such incidents.
It said it intended to install CCTV cameras to catch the offenders at its 13 recycling sites around Boston after what it said was a 'high number' of incidents.
But yesterday, it said that it had taken the decision to close the clothing bin, which benefits charities, at the Asdas store in the town.
In a statement on Facebook, the council said: "Following the misuse of our clothing bring site at the Asda store in Boston and repeated concerns raised to us about the use and safety of those using this site we have asked for them to be removed by the suppliers.
"The bottle banks and the card and paper recycling bank will remain at this location.
Other clothing recycling bring site locations can be found at our bring sites tab at https://www.mybostonuk.com/operations/"
Launching the crackdown earlier this month, Cllr Yvonne Stevens, portfolio holder for environmental services, warned that the problem could even lead to such an outcome.
"We really do not want to be in the position where we have to remove the bring banks from the sites and take this extra recycling facility away from our residents," she said.
"We need to make sure these facilities are used in the correct way and not taken advantage of."