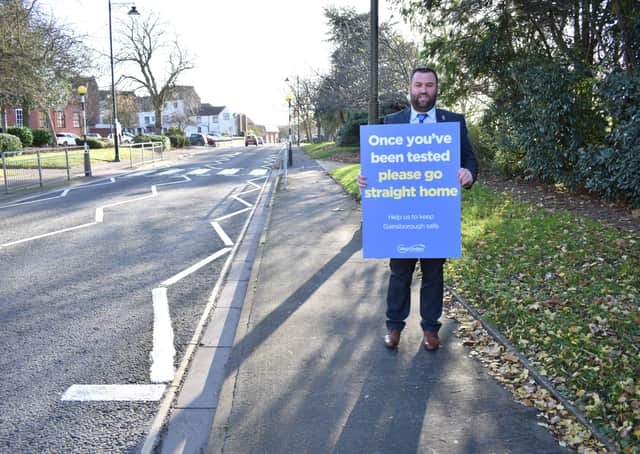 The new centre has been erected in the Riverside Car Park in the town centre and is expected to remain there for a minimum of three months.
Gainsborough ward member and town councillor, Cllr Matt Boles said: "We can see that cases nationally continue to rise and by having a site in Gainsborough, we hope we will be able to ensure more people locally will be able to access a test much more easily.
"The Council has been working hard since the outbreak to put measures in place to support businesses with grants and advice, new signs for the town centre and much more.
"We have recently been handing out leaflets to take away establishments to remind customers of the symptoms of coronavirus, one if which is a change to your smell and taste.
"Our latest campaign Hands, Face Space, Let's keep Gainsborough safe is aimed at urging local people to get a test if they have symptoms and for us all to do what we can to keep our community safe.
"We all have a personal responsibility to keep people safe."
The centre has also been welcomed by Market Rasen ward member Stephen Bunney.
Cllr Bunney said: "This is good news for the whole of West Lindsey and will, hopefully, make it easier and more convenient for Rasen residents to get a test if needed.
Please be aware that whilst the testing centre is a walk in centre - people still have to book a test online by visiting www.gov.org and if you are struggling to access a test online you can call 111.
Know the symptoms of Coronavirus:
Sense of smell/taste changes
A spokesman for West Lindsey District Council said: "If you do have a test at the Gainsborough test centre, remember please go straight home afterwards - do not pick up any last minute shopping - and self-isolate until your results are back.
"Please remember these three simple steps can help keep people in West Lindsey safe:
1. Hands, Face, Space. Keep washing your hands thoroughly, for 20 seconds.
2. Use a face covering unless exempt.
3. Keep two metres apart from others, or one metre plus precautions."