Council worker nears 300 mile cycle challenge goal
A member of staff at North Kesteven District Council pedalling towards the end of a 300 mile cycle challenge in aid of the British Heart Foundation.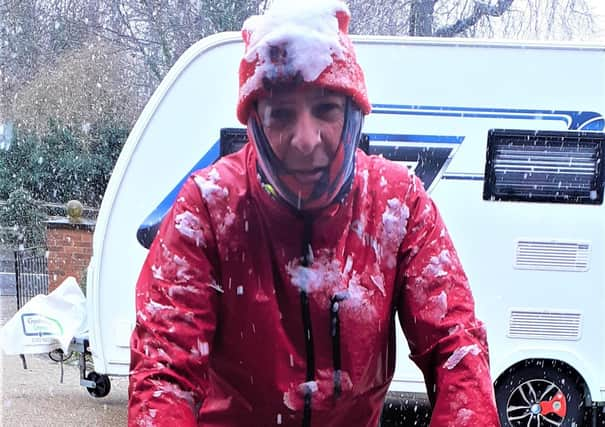 Customer Services Advisor Stephen Bath set himself the mammoth task after hearing about a team fundraising bid for the charity from a neighbour.
Knowing that lots of charities are suffering impact from Covid, he decided to help.
So far he has cycled 270 miles through the cold weather, including ice and the recent snowfall, and hopes to reach the 300 mark before January 31.
"All charities are feeling the pinch at the moment with so many fundraising events being cancelled, and I think the British Heart Foundation is a very worthy cause," said Stephen.
"I began cycling about 12 years ago as a result of turning 50 and started doing a few fundraising events, ending in riding from Land's End to John O'Groats in 2015, a route of some 980 miles.
"I have not done so much cycling since, just for leisure locally, and this challenge seemed a good chance to give it a kick-start again while getting my permitted daily exercise."
He said: "The big challenge with doing this in January has been the short days and the weather. My colleagues also took great delight in telling me about the 'Beast from the East' which was on its way for a time!"
Stephen is part of a wider team of 227 participants called 'Go the Distance' set up by Sleaford estate agents Pygott and Crone.
"If everyone in the team achieves the minimum goal of £100, it will raise a considerable sum for the charity; in total over £35,000 has been raised by the team so far, with many people far exceeding the £100 target," he added.
"I'm so pleased to have already raised over twice my target of £100 thanks to the support I've had so far. Every extra penny will no doubt make a huge difference to the British Heart Foundation and help save lives from heart disease."