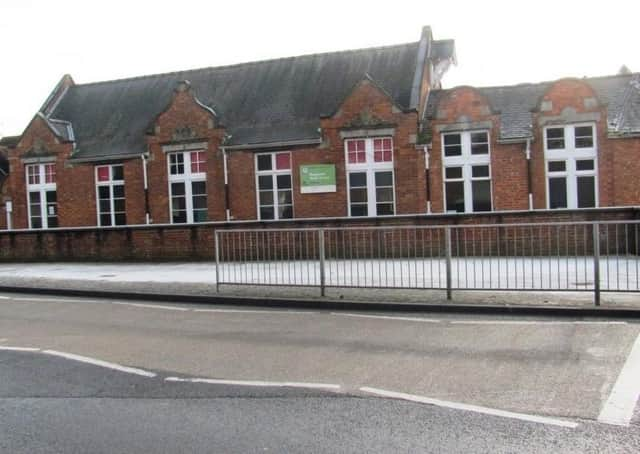 Horncastle Youth Centre.
At an extraordinary meeting last night (Tuesday) town councillors voted overwhelming to turn down a request from trustees of the centre for £25,000.
The money would have been used to support a bid to rake over the centre from current owners Lincolnshire County Council.
The County Council closed the centre several months ago, saying the cost of repairs did not justify keeping it open, despite the building being used by a number of groups and organisations.
Since then, trustees - led by town councillor Dominic Hinkins - have led a campaign to secure the centre's future.
The trustees have produced a business plan and wanted the council cash to help support the bid to take control of the centre.
However, councillors rejected the request - saying they were not convinced by the viability of the business plan.
Coun Hinkins presented a strong case for financial help and stressed the money would be used to support the business plan - rather than being spent on specific repairs or other costs.
He added the application was similar to a recent decision by the council to earmark £50,000 for the Prospect Street Recreation Park project.
However, a number of councillors opposed the motion with Coun Matthew Wilkinson saying he wasn't convinced the business plan was viable.
He also voiced concerns that if the council went ahead with the handing over the money, it could lead to similar applications from other organisations.
Coun Hinkins was the only councillor to vote in favour of the motion.
Councillors also vetoed an amended motion from Coun Angela Birchall which called on the council to 'ring fence' the £25k until more information - including financial details - were available.
The meeting started with a public forum in which several people backed the centre - including local children.
They said the centre was 'like a home' to them and deserved to be kept open.
Coun Hinkins stressed that although disappointed with the decision, trustees would continue their campaign.
Mayor Coun Fiona Martin thanked the public for voicing their support and said the town council would continue to support the trustees.
She said legislation meant the council could look again at the issue of funding - but only in six months' time.