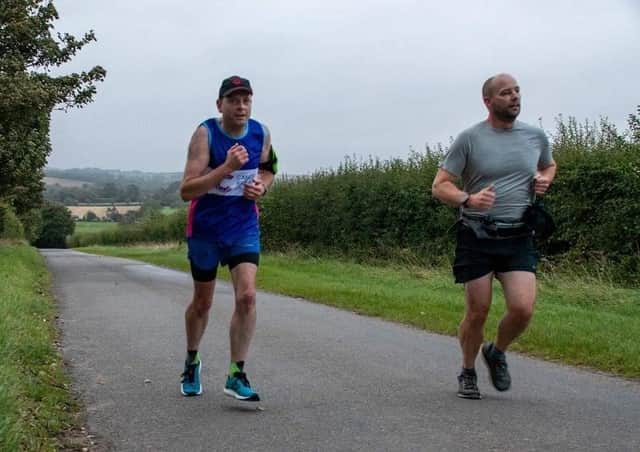 As reported in the summer, Simon, from Louth, will take on the 26.2 mile venture on Sunday October 25, and the route will pass through several locations that meant something special to Simon's mum, Susan.
Susan Greenfield sadly passed away in September 2019 following a battle with cancer, almost one year on from her diagnosis the previous October.
Subsequently, Simon has been doing everything he can to raise vital funds for Cancer Research UK, including dying his hair and beard pink at the end of last year and then having it shaved off, raising over £3,000.
Simon's fundraising for his upcoming marathon has already raised around £1,300, and he hopes to raise even more in the coming days and weeks.
Setting off from Horncastle at 10am on the day, Simon's route will take him through the following towns and villages:
• Horncastle: where Susan's first job was at Gymflex, and where some members of her family live.
• West Ashby: the village where Susan was born, and where she lived until she married Simon's dad. It is also where Susan is buried .
• Hemingby: where Simon's mum and dad had their wedding reception, at the Coach and Horses pub.
• Goulceby: the village where Simon's mum and dad lived for nearly 40 years .
• Donington on Bain: where some of Susan's family members live, and where she went to the shop regularly .
• Cadwell Park: where Simon's mum and dad visited most weekends, to share their passion for motorbike racing.
• The marathon finishes in Louth, where Simon and his family lives, including Susan's beloved granddaughters, and also her auntie and uncle.
Simon told the Leader: "My challenge is to run a marathon through the Lincolnshire Wolds, through places that meant things to my mum.
"I had never run before I started training in January with 'Couch to 5k'. I am now three stone lighter.
"Louth Run For Life has been helping me loads. They have supported me setting up my Just Giving page, press releases, doing my artwork, helping the day with a support vehicle. They have just been a massive support to me ."
Simon will hold an online auction after the marathon, with motorbike memorabilia including signed items from top riders and team owners.
Next year, Simon hopes to run his mum's age when she died - an incredible 62 miles in just one day. Watch this space!
To make a donation towards Simon's marathon effort, visit https://fundraise.cancerresearchuk.org/page/simons-giving-page-508.