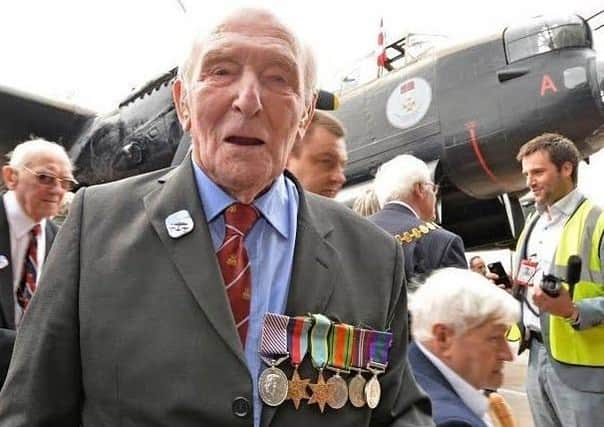 Mr Johnson, a former squadron leader and winner of a DFM, was born near Horncastle and still visits the area on a regular basis.
The cycling marathon will be attempted be Wing Commander Mike Ainsworth (5O) who is based at the headquarters of the RAF Air Cadets at RAF College Cranwell.
Mike will be covering the distance both on the road and on a turbo trainer.
Part of his challenge will include a 100-mile ride in Lincolnshire on May 15.
The Dambusters Ride has been created by the Benevolent Fund to celebrate the 100th birthday of Squadron Leader Johnson DFM, the last surviving member of the Dambusters raid.
Mike then plans to travel overnight to Germany to complete a 100-mile cycle on May 16 alongside a team of riders taking part in the virtual Dambusters Ride event.
The following day, he intends to cycle a further 100 miles around some the crash sites and graves of the airmen that did not return.
Mike said: "I wanted to set myself a big challenge as I'm an experienced cyclist, so I settled on 5,600 miles.
"This represents 100 miles for each crew member from the eight Lancaster bombers that did not return from the Dambusters raid.
"I'm also turning 56 this year, which makes my target especially fitting!
"I've been in the Royal Air Force for 35 years, so the RAF Benevolent Fund is a cause very close to my heart."
Mr Johnson, who now lives near Bristol, has given his support to the ride.
He said: "I am grateful to have never needed the support of the RAF Benevolent Fund but nonetheless I have always known they are there for those less fortunate than I.
"Not only will this event raise vital funds to support RAF personnel, past and present, it will also pay tribute to the brave men of Bomber Command who made the ultimate sacrifice on the Dambusters raid and throughout the Second World War.
"Their loss must never be forgotten and it is my hope through this event, a new generation will learn about the cost of the freedom they enjoy today.
"The RAF Benevolent Fund does incredible work supporting RAF veterans and serving personnel and I would like to thank anyone who signs up for this cycle ride."
•You can follow Mike's progress and sponsor him via his fundraising page: rafbf.enthuse.com/pf/mike-ainsworth. For more on to get involved in the Dambusters Ride, visit rafbf.org/ride