Danny's multi-marathon challenge brings him to the Louth area
Look out for the running blue t-shirt in the Louth area tomorrow (Wednesday September 30)!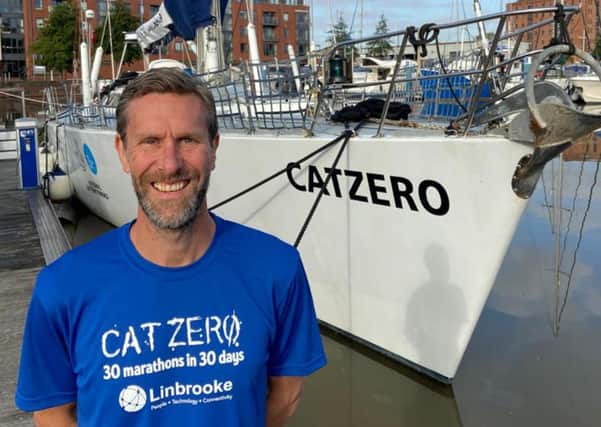 The man in the shirt is charity founder and fund-raiser Danny Watson, and he will be on Day 8 of completing an epic 30 marathons in 30 consecutive days, running from Brighton Pier, where he started last Wednesday (September 23), all the way to John O'Groats.
His journey has already taken him through central London and up through Cambridgeshire. He crossed the Lincolnshire border on Monday, and today (Tuesday) he ran another 26.2 miles from Sutton St James and through Boston to Frithville.
Tomorrow, he will run another 26.2 miles north, ending in Little Cawthorpe near Louth.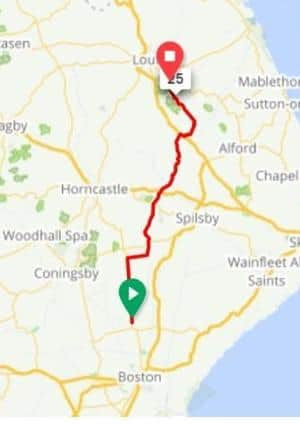 In aid of CatZero, the leading Humber charity he helped to launch, Danny will keep up the pace every day, hitting Grimsby on Thursday before crossing the Humber Bridge and into East and North Yorkshire, Teesside, and crossing the border into Scotland and up to John O'Groats to finish on Thursday October 22. The total run is more than 800 miles.
With initial plans before Covid-19 to invite people to run alongside him now scaled back, Danny is now a lone runner with just three support crew and two support vehicles – staying in a motorhome to prevent social contact. The route is subject to change if any local Covid-19 restrictions are put in place.
Danny has a personal fund-raising target of £30,000, which will all go towards CatZero, which he helped to launch 11 years ago.
A twice-round-the-world sailor, Danny is the charity's Director of Sailing. CatZero uses sailing as an integral part of its personal development and change programmes, and recently has launched the successful Full Families programmes in Grimsby and Hull, which this money will be used for.
With headline sponsors Linbrooke Services on board, Danny's aim on this, his 50th birthday year, is to ensure the CatZero message of support, inspiration and hope is spread the length of the country. He stressed how it was an important message in such uncertain times.
"The ability for CatZero to help people affect lasting personal change has been proven since our launch 11 years ago with hundreds of people of all ages and abilities assisted back into long-term employment or training," said Danny.
"Such support will be needed more than ever in the coming months and years as people face uncertain times in many areas of their lives.
"There has never a better time to raise awareness of how our charity is able to offer that support," he added.
The 30in30 experience will be a grand finale to seven consecutive years of personal challenges undertaken by Danny and other CatZero supporters. In total more than £80,000 has been raised during that time.
It is hard to believe, but Danny has not always been a fitness fanatic, in fact he couldn't run a mile eight years ago when he was warned he was on the verge of obesity. That kick-started his weight loss and healthy lifestyle.
Following his father's death in 2013, Danny and his sister, Nicola, decided to run a marathon together in his memory and that began the seven- year challenge.
"I used to be three-stone heavier and actually it was my dad and sister Nicola who were the runners," he said.
"When you are taking on these challenges, or any form of endurance exercise, it really is all about attitude.
"I now see it as a privilege to be able to train and undertake these adventures," he added.
"Working with vulnerable families has affected me personally especially as I now have a family.
"I have used the principles we have developed in CatZero in changing my own life.
"I am passionate about the work we do with children, young people, and their families, creating lasting change."
Linbrooke Services, which is proud to be supporting such an amazing challenge, is joined by other key sponsors - Adams and Green, ARCO, Beal Homes, Clipper Ventures PLC, Harris Lacey Swain, Hodson Architects, Horncastle Group, Informed Financial Planning, Marr, Pipers Crisps and the Sewell Group. It is also supported by W A Horncastle Charitable Trust.
To donate, Danny's 30in30 Virgin Money Giving page is: uk.virginmoneygiving.com/DannyWatson30in30
Follow Danny's progress at www.catzero.org or on Instagram, @dannywatsoncatzero.