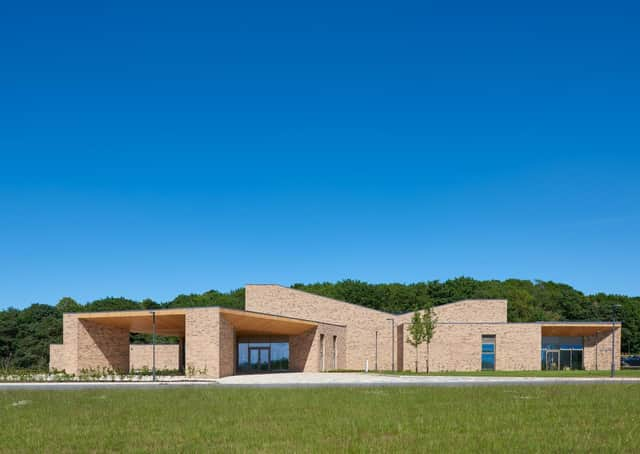 Lea Fields Crematorium, near Gainsborough, was presented with the award for "demonstrating excellence in architecture or design, whilst being sustainable, accessible and providing a positive civic contribution."
The award was also presented because the crematorium had demonstrated it had made: "an outstanding contribution to the quality and appearance of the built environment."
Summing up, the Civic Trust judges said of the Lea Fields: "The design places an emphasis on elegance and harmonious simplicity, embodying an aesthetic solution that is bespoke and rarely experienced. A timeless piece of architecture."
Civic Trust Awards were also handed out in the same category to iconic buildings such as the Royal Wharf Pier, English National Ballet and Aberdeen Art Gallery.
The crematorium was designed by the architect company, Haverstock.
Samuel Da Silva Resende, associate architect at Haverstock, said: "Lea Fields has been an extremely satisfying project to work on and this award is recognition of the wider team, including the client's and contractor's commitment to producing exemplar architecture.
"Crematoria are always complex designs to undertake, but working with such a proactive team has made the process very pleasurable."
The Crematorium, which was also handed the award of Best Service Team of the Year: Cemetery and Crematorium Services, at the Association for Public Service Excellence Awards, only a few months ago, offers a reflective and tranquil location for people to say goodbye to their loved ones.
In-line with Government restrictions, the opening year for the crematorium has been one of constant adaption and change, but, according to senior crematorium officer, Karen Smith, the building and the surrounding landscape have offered a vital and reflective constant throughout.
She said: "This beautifully designed building on Lea Park, situated on the hill with endless views of trees and greenery, has allowed many people to say goodbye to their loved ones in a quiet and peaceful location.
"Vital services have continued to take place and, despite the uncertainty throughout the country over the past months, the building has allowed for a certainty of calm, reflection and peace to take hold."
Ms Smith continued: "We are extremely grateful to all those at Haverstock for their skills and expertise, and to everybody at the Civic Trust Awards for acknowledging the building and location in this way."
For more visit www.
leafieldscrematorium.co.uk .