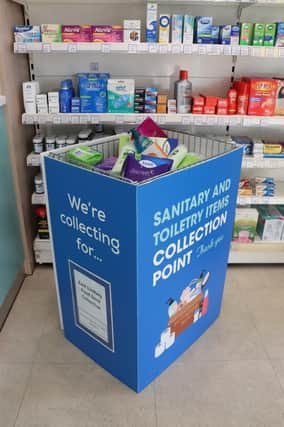 Hygiene bank collection points have been introduced in more than 45 Lincolnshire Co-op pharmacies, including Horncastle, Louth, Boston, and Kirton, helping to tackle hygiene poverty, which is a growing problem across the region.
Customers are being encouraged to donate hygiene essentials like deodorant, soap, toothpaste, toilet roll, sanitary products, washing up liquid, laundry detergent, nappies and pull-ups, wipes, shower gel, shampoo and conditioner.
Products will be collected from the donation points in the various branches, and delivered to an assigned charity or good cause to be distributed to those in need.
Lincolnshire Co-op is supporting 16 different charities throughout this campaign, including EDAN Lincs Domestic Abuse Service and the East Lindsey Food Collective, as well as hygiene banks, homelessness support, and foodbanks.
In Spilsby Pharmacy, items that are donated within the branch are collected for the aforementioned East Lindsey Food Bank Collective.
Pharmacy service assistant Lara Daintree said: "The hygiene bank collection points are a hugely positive step towards improving the quality of life of people who are struggling within our communities during this difficult time.
''The most popular items that have been donated in our branch are toothbrushes and sanitary products.
"Even cotton wool has been donated, which I myself may have overlooked, but products like that are universal and can be really useful."
Lisa Saxon, a fellow pharmacy service assistant in Spilsby, stressed the importance of donating: "It's easy to take items like deodorant and shower gels for granted, because they're promoted as luxury items sometimes, rather than something that everyone needs."
​Darren Hawkins, Pharmacy Area Manager for Louth, said: "We are really grateful to our local community, who have already made lots of generous donations.
"We're collecting for the East Lindsay Food Collective, who are doing great work in fighting hygiene poverty. I'm really proud that we're able to support them."
More information about the hygiene bank campaign is available online at lincolnshire.coop/hygienebanks