Thorpe Mills, who comes from Burgh le Marsh, is set to get pulses racing when he appears on stage at the Embassy Theatre in the Dreamboys: No Strings Attached show.
Sunday's show is part of a nationwide tour of all major cities such as Liverpool, Birmingham and London and promises a brand-new visual spectacular designed to give the audience a night they won't forget.
Performing close to home is equally thrilling for Thorpe, who says his family are fully behind his choice of career.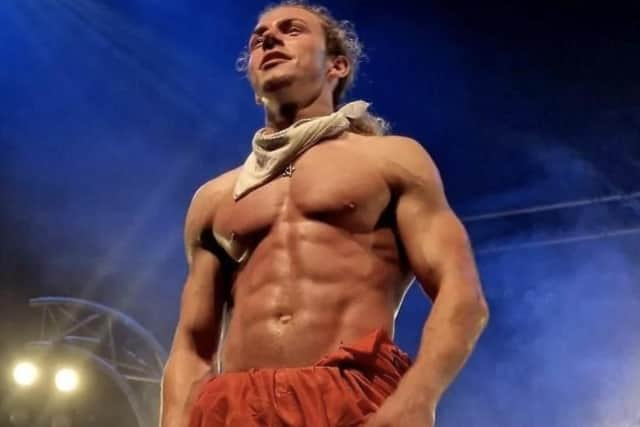 "They are supportive in every way I can imagine," he told Lincolnshire World. "My mum and grandma have already watched me in the show and I am always being bombarded with questions from my grandma and mum."
Thorpe says he knew he was destined for a career on stage from the age of nine.
" I didn't want to be anything other than involved with the stage and I became a dancer," he said. "This was after spending my younger years trying out football and kickboxing, which to be honest I never really felt fulfilled at.
"I never imagined Ddreamboys being on my radar for work as a postgraduate.
"My ideal line of work whilst being a student at a performing arts school was performing on cruise ships, that was my plan.
"At the beginning of last year, I decided once I was finished with cruise ships I wanted to go down the route of Magic Mike and I would give myself two years living on cruise ships.
"However, most of the time the universe has different plans and I turned up at Dreamboys after my third audition post graduation.
"I couldn't wish to be in a better place.
"I first heard about the Dreamboys when my agent messaged me about the audition happening.
"Before leaving college and entering the room at my audition I never had any knowledge about who they were or what they do, until I was presented with it in real life.
"It was quite a surreal feeling to be in the room for something I barely knew anything about so I simply set out in the audition to do the best I possibly can and leave it at that, what will be will be. Funnily enough this intention played in my favour.
"I've found I'm enjoying every moment because it's the only way to see growth by enjoying each time I step foot on the bus, to act on getting better and better at what I do every time.
"I've never been for creating a negative atmosphere and I try to be conscious of that and I actively try to be a team player in whatever way I can because I do care about the team and how we operate as a unit."
Dreamboys: No Strings Attached has been produced by Jordan Darrell, Creative Director of Dreamboys and recent judge on E4's The Real Dirty Dancing opposite Ashley Roberts and Keith Lemon..The show caters for all genders, sexualities and ages. To book tickets visit embassytheatre.co.uk/