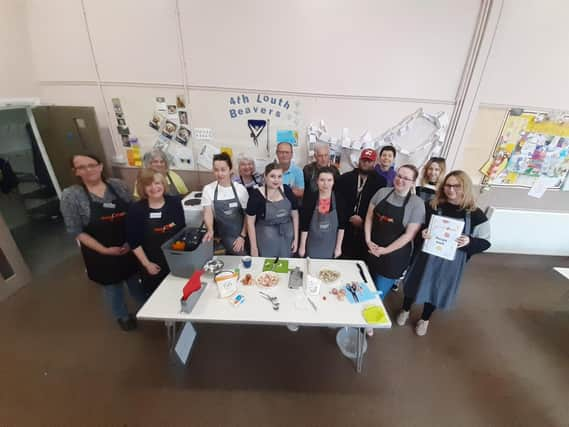 ​Louth & District Lions have been working with Louth's Methodist Church to launch the Easy Cook sessions, where those who struggle in the kitchen can enroll on a six-week long course learning how to cook simple but nutritious meals.
The idea came about when church volunteer Heather Jeffrey, a former home economics teacher, was concerned about the lack of cooking knowledge in the community, and decided to organise a series of sessions to teach basic cooking skills to cook simple, healthy, and nutritious meals.
She teamed up with the Lighthouse Outreach Project, which operates the food bank from the church, and the Lions who have provided nearly £2,000 of equipment to help get the project off the ground, including four small oven/hot plates and a number of utensils.
Just a few examples of the meals that have been made include a bean, chorizo and vegetable casserole, a quiche, sausage rolls, and macaroni cheese sauce.
Heather said: "It's more than just giving people food, it's also about giving people the confidence to cook a healthy meal.
"We have people coming here who struggle with life skills, or their mental health, and another who has had a stroke, and the difference in their confidence and their new life skills is lovely to see."
The Easy Cook sessions have also been supported by both Morrison's and the Co-op's community champions, who have provided equipment and food for the sessions, and Louth Food Bank has also helped provide food for the sessions.
"This is what it's all about, the community coming together to help each other," said Mark Harrison, project co-ordinator for the Lighthouse.
The food bank is currently short of toiletries, and donations of shampoo, conditioner, shower gel, sanitary products, and cleaning products would be welcomed.
Sessions take place between 9.30am to 11.30am on Thursdays during term time. To find out more, or to book a place on the next course, email [email protected]