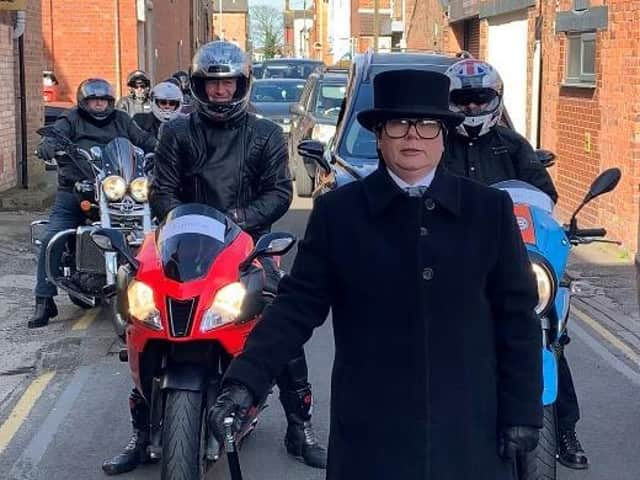 For the funeral of Brian Denis Lavis at Alford Crematorium, his family asked on Facebook ask if any bikers would like to join the cortege. Photo: Frank Wood Funeralcare.
The Covid-19 pandemic has had a massive impact on how communities across Lincolnshire have been able say their final farewells to loved ones - and for the Royal family it was no different.
For one minute on Saturday, the UK stopped to remember the Duke of Edinburgh - the nation's grandpa who devoted his life to serving his wife, the Queen, the country and the commonwealth.
There was no state funeral full of the pomp that would normally be associated with a member of the Royal family - Prince Philip wanted a simple ceremonial funeral because of the Covid-19 restrictions.
The public lined the street to say their last farewell to Jeannette Field in the first funeral held in Skegness during the pandemic.
Instead of a gun carriage being used to transport the coffin between locations, the Duke's coffin was transported from Windsor Castle to St George's Chapel in a specially-modified Land Rover he designed two decades ago.
Family members with rank would normally have worn military uniform but, in spite of the Duke's longstanding association with the military, they wore their medals on morning suits.
Eight pallbearers carried the coffin up the west steps into the chapel. It was draped with Duke's standard, a single wreath of white flowers chosen by the Queen and the Duke's naval cap and sword on top,
Only 30 people - children, grandchildren and other close family - were able to attend.
The RNLI saluted the funeral cortege of their former coxwain Richard Watson when it stopped briefly at the lifeboat station.
Across Lincolnshire, Union Flags were flown at half-mast and a single bell was tolled at churches as the funeral approached.
Many people who have organised funerals themselves in the past year would have felt empathy with the Queen, as she sat alone in St George's Chapel at Windsor Castle.
The Duke's funeral was so powerful in its simplicity - a challenge that has faced too many local people over the past year.
As a local newspaper we were privileged to report on the first Covid-19 funeral procession in Skegness, which was broadcast around the world.
The funeral cortege of Skegness Deputy Mayor Jim Carpenter passed by the Stagecoach bus station, where he had worked.
It was a truly emotional moment as the funeral cortege of retired NHS nurse Jeannette Field travelled along the street where she had lived.
Her favourite song - Bryan Adams' 'Everything I do (I do it for you)' - played from a neighbour's front lawn as the public stood along the road, socially distanced, clapping as the coffin passed by.
Similiar poignant moments were seen when the RNLI in Skegness paid a special tribute to their former coxwain, Richard Watson. The funeral cortege stopped briefly by the lifeboat, which had been brought outside so crew members and former colleagues from across the region could pay their respects.
At Christmas, members of the community lined the streets of Wainfleet dressed in red to pay tribute to their much-loved 'Santa Claus' Walter 'Wally' Ernest Parnham.
Local celebrant Jo Wheeler (left) has seen the "terrible human impact of the Covid 19 pandemic."
More recently, at the funeral of Brian Denis Lavis at Alford Crematorium, his family asked on Facebook ask if any bikers would like to join the cortege.
Members of the public also lined the street when the funeral cortege of Skegness Deputy Mayor Jim Carpenter passed by the Stagecoach bus station, where he had worked.
Local celebrant Jo Wheeler said she has witnessed the "terrible human impact of the Covid 19 pandemic".
Working alongside Frank Wood Funeralcare of Skegness during the pandemic, she said: "People have been unable to see, and hold, dying relatives; unable to visit them in the Chapel
of Rest if their death was Covid related; unable to touch or lay personal items on their coffin
Funerals have had to become more simple during the pandemic.
"Funeral attendees have been encouraged to disperse rapidly post ceremony and lockdown
measures have prevented wakes, either at home or at a venue.
"All of this has been desperately detrimental to the grieving process.
"For the same reason we have wedding guests to share in our joy, those attending a funeral
share their grief. It lightens the load. A funeral acknowledges the passing of someone close
and facilitates the grieving process."
Limited numbers and social distancing has diminished this experience but Lincolnshire's crematoria were quick to install webcast facilities allowing many more people to join a ceremony remotely.
Jo believes these will continue to be invaluable in the future.
"We're not terribly good at death in the western world. There's a tendency to sweep it
under the carpet, to let someone else deal with it," she said.
"But we've all known someone or known of someone who has passed in the last year. And the media has made sure we've been aware of the nation's death toll on a daily basis.
"Alongside the natural grief that accompanies death, there's a more focused pain in knowing
that those who have died are unlikely to have had their loved ones with them, especially if
aged or hospitalised. It's a horrible truth that is difficult to bear.
"Even those of an age who wouldn't usually anticipate having to deal with death and
bereavement have had to come to terms with the daily dying going on around them."
The pandemic has created some tough decisions for families. "Through the pandemic, some relatives have chosen direct cremation – understandable when they can neither visit their deceased and potentially face conflict over the chosen few allowed to attend the funeral," said Jo.
"But in these crazy times, we should not lose sight of the importance of a funeral, and the
role it plays in society. This 'formal farewell' is as important for us and our own well-being as
As a result of the spike in deaths due to Covid-19, Funeral director at Frank Wood Funeralcare Sarah Sarah Nothdurf and her team have faced long days organising funerals, traveling as far as Nottingham, North Hampton, Leicester, Doncaster, Sleaford and Boston, as well as Skegness and surrounding towns/villages.
Normally, they would expect to organise around 85 funerals a year, but there have been many more due to the pandemic.
"We haven't had any Covid deaths in six weeks, so we're seeing a decrease since lockdown restrictions and the vaccinations being rolled out," said Sarah.
However, funeral services continue to respect Covid-19 restrictions. "Since the pandemic lots of our services have had to change to the government guidelines and that's to protect all families, loved ones and my team," said Sarah.
"With offering a personal service we would normally make arrangements to visit families at their homes, lots of people feel more comfortable in their own surroundings. Or, we would arrange face to face appointments within branch.
"Since the impact of Covid-19, all funeral arrangements have been done via telephone, email and post – which feels very impersonal.
"We can be meeting with the families for the first time at the funeral service. It can be quite difficult if the families are together trying to identify the person you've been speaking to without feeling a little rude.
"However, when people open up and share all their wonderful stories and memories it helps me to personalise the funerals.
"Since the pandemic started we have found ourselves travelling further to arrange funerals.
"On some occasions it has taken up a whole day.
"We've left Woods at 5am and got back at 16.30pm before now. But to be able to do this one last act for anyone is very special to both my team and I."
MEMORY TREE TRIBUTE TO THOSE LOST DURING PANDEMIC
A memory tree is another example of how funeral directors have adapted to enable families to pay tribute to those they have lost during the pandemic.
Frank Wood Funeralcare marked the one-year anniversary of the initial lockdown by being part of the Marie Curie National Day of Reflection.
Anyone who has lost a loved one was invited tie a yellow ribbon on a memorial tree in the reception on Prince George Street.
As we pay a final tribute to Prince Philip, we also remember some local members of the public who we have lost during the past year (* permission given by family).
At the funeral of Brian Denis Lavis at Alford Crematorium, his family asked on Facebook ask if any bikers would like to join the cortege.
A memory tree at Frank Wood Funeralcare in Skegness has allowed families to pay tribute to loved ones.