Exclusive interview with million-selling Lincolnshire crime writer to mark World Book Day
To mark World Book Day, million-selling Lincolnshire crime writer Nick Louth gives aspiring writers his tips for success.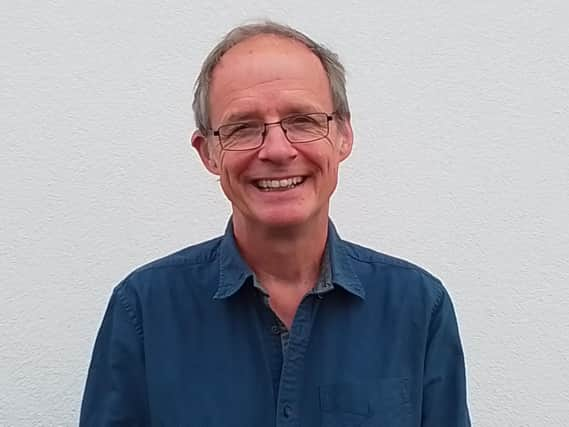 When did you first want to become a writer?
I think I was seven years old. I'd written a story about a cat that slips out of a house at night to explore the neighbourhood which was praised by my teacher. After that first spark, I pretty much ignored the idea of fiction writing until I was already a journalist at Reuters in New York. There I
went on a creative writing course in Greenwich Village, and learned some of the formal building blocks: Building tension, character creation, voice, point of view and so on. Like many journalists I had a hankering to write a bestseller, though I never expected it would really come to fruition. It did in the end but took the best part of 20 years, when Bite topped the Amazon bestseller charts in the UK in 2014.
Describe your writing process - how do you create a storyline/characters?
I'm very lucky in that I don't find writing very hard. Ideas simply pour out of my imagination faster than I can write them down, particularly during the night and as I'm waking up. These ideas bring their own enthusiasm and energy, and I get them down first thing in the morning, which is probably my most productive time. I try to write seven days a week, four or five hours a day, and generally aim for a thousand words or more each day.
I usually start with a twist, something that will make the reader sit up and take notice. Turning these ideas into a workable plot takes a bit more ingenuity, and creating good and memorable characters is sometimes a bit laborious.
I never take someone I've met or seen to turn them into a character. What I do is magpie-like, to pick up facets of appearance, or behaviour, and create a character around them. For example, imagine Charlotte, a slender woman without a hair out of place, who moves in next door to you. She is heard to drive out every evening at midnight, and doesn't come back until the small hours. Where is she going? She starts leaving you and your partner lavish gifts, expensive toys for the children, sending cards for their birthdays and your anniversaries, dates you don't recall ever telling her about. Charlotte's 'niceness' is really a twist on creepy, playing on guilt to create obligations, and leaving you a dilemma on how to reciprocate. Could she have a murdered ex under the patio? It's possible!
What advice would you give to any aspiring authors?
My advice to writers is really pretty simple: you must never, ever give up.
That applies both to creating your novel, but also to getting it published. A book, particularly your first, is a huge project. It generally takes longer than having a baby, and brings with it a similar emotional attachment!
Many people have ideas for just a few scenes but are not sure how they would turn that into a book.
Start by writing those scenes and gradually build characters into them; give them a voice, create some dialogue. For thrillers, you have to create characters that readers adore, and then put them in danger. When you hear them speak, you get to know who they are.
Almost all plots have a conflict at the centre, whether it is between characters, or even some external event. These often incorporate a deadline – e.g. trying to build a boat on a desert island before the tsunami arrives - and it's also the biblical story of Noah.
Learn to dissect films and TV drama – who are the viewers supposed to like and why? Where is the conflict? Have you been wrong-footed by a plot-twist?
Try to sketch out the entire novel in rough form rather than attempting to polish one chapter before moving onto the next. Just know where you're going, you can always go back to put in your best writing later.
Finally, when you have finished your masterpiece, hand it to someone who is not afraid to tell you the truth. Develop a thick skin for some inevitable criticism, and use what you've been told to improve your work. If you can afford to pay for an editor, it is usually money well spent.
Sometimes it helps to join a writers' group, where you critique (hopefully positively and kindly) each other's work. It makes the road less lonely.
How can a writer get their book published?
Getting published is even tougher than writing the book, and there is no magic formula. Sometimes you have luck, but sometimes you must have sheer bloody-minded determination. Every letter, every submission to an agent or publisher, must be the best and most gripping writing you can manage; without a single spelling mistake or grammatical error. Then the inevitable waiting, and the bitter disappointments. It's an unavoidable part of the writer's lot, but makes success all the sweeter.
The great advantage these days is that you can always self publish. The world can see your book, out there along with something like one hundred million others. Getting people to buy it? Well, that's a whole other interview!
Nick Louth's latest crime thriller is The Body in the Shadows
Nick has also recently signed an eight-book deal for a new detective series with publisher Canelo and audiobook publisher W. F. Howes.
He said: "I am thrilled to be working with Canelo and W.F. Howes on an exciting new detective series. An eight-book deal is an enormous vote of confidence in my continued creativity, and I have nothing but confidence in the publishing teams that have brought such success to the DCI Gillard series."