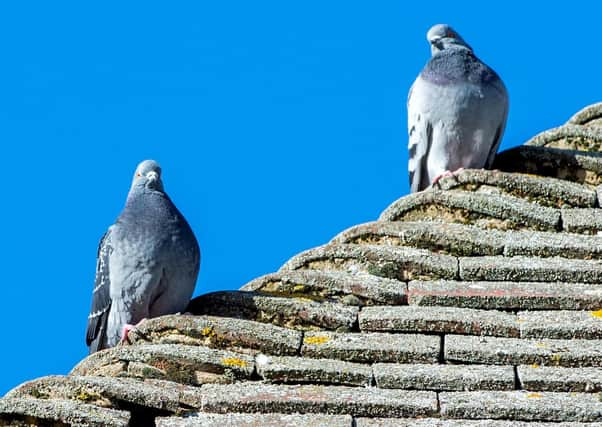 James McKay - from The Bird Control Company - contacted The News after reading about several Horncastle Town Council meetings when councillors discussed the problem of pigeon poo and how to resolve it.
The issue has been on the council agenda numerous times for many years but councillors have been unable to agree a solution after a host of suggestions – including putting pigeons on the pill to reduce bird numbers and the amount of mess.
Mr McKay visited Horncastle on 10 different occasions during June 2018 to see the extent of the problem.
He wrote a 39 page report on his findings and identified possible solutions.
He believes bringing in trained hawks is the best method sand claims it could save the council thousands of pounds in the long-term.
Town Clerk Amanda Bushell confirmed Mr McKay's report was considered by the Horncastle Together organisation in 2018 and then sent to all councillors ahead of their meeting last month.
Mr McKay said he is happy to attend a full council meeting - in person or via Zoom - to discuss his findings.
However, Mrs Bushell explained that for the time being, the council will be concentrating on street cleaning - a proposal which was agreed to at last month's meeting.
She added: "Horncastle Town Council will be trialling the cleaning of the pavements before considering any further action to take about pigeons."
The council voted to ask its Personal and Finances Committee to find the money to fund £6,000 to cover 10 hours of street sweeping a week - plus uniform and PPE.
Mr McKay said: "Back in June 2018 they (Horncastle Town Council) contacted me.
"I run a company called The Bird Control Company and we are one of the major players in that field in the UK.
"I visited Horncastle on 10 different occasions over seven days to get a picture of the problem and I put together detailed report.
"As I told them two years ago, the pigeon population can only go in one direction and so there will be more and more fecal material deposited...because there will be more and more pigeons.
"The mess is very dangerous to people because it carries insects, it carries diseases and it is a slip hazard.
"Also, it destroys the image of the town because people seeing pigeon mess everywhere are going to be put off the area.
"The price that I quoted them isn't much above what they are spending to clean the poo - I was talking about doing something to get rid of pigeons.
"The most cost effective and most efficient method (USP) we use is to fly trained birds of prey - but not to kill and eat the pigeons because if that happened that would not deter pigeons.
"Our birds are trained not to attack other birds but the pigeons don't know that
"Our hawks are bred and trained exclusively for moving problem birds - and it works.
"I am a scientist (Zoologist PHD) and I apply science to this.
"What you are looking for is bird pressure - bird pressure relates to how much those particular birds want to stay in that area.
Mr McKay says his report classed the problem in Horncastle as 'medium' which means pigeons are committed to staying in the town and a few were starting to breed.
He added: "I said back then was there were a lot of areas perfect for the birds and these birds would start to breed and then it would become a high pressure are.
"What we have done in other towns/villages is the council have paid some money towards our fee and also every business has also thrown in some money so it is a kind of business forum and they are all working together.
"One of the contracts we have is for a football stadium - only a small team - but they were spending £36,000 a year clearing up pigeon droppings.
"We moved in and we've done the job for £25,000 and it now costs less than £1,000 a year to do the pigeon poo cleaning.
"So if you do a job properly it saves money but by just cleaning up after the pigeons - without getting rid of them - is a bottomless pit.
"They will still be there.
"This is a very specialised area and you need professionals.
"We specialise in bird control and I've been doing that for the last 30 odd years.
"Our methodology works and long-term it will save money as it will address the issue and not the symptoms.
"I know that the pigeon problem is growing and that they are nesting more.
"I think a business consortium is what they ought to be aiming for where everybody chips in.
"The pigeon issue will not go away on its own and something will have to be done."
One of several problems for councillors is that they don't actually own many of the buildings where pigeons nest and roost and have no right of access.
Councillors have also expressed concerns about the impact seeing a hawk in action might have on children.