Festive Fabuloso set to get Wolds dancing as it returns on run up to Christmas
Festive fun, seasonal silliness and merry mayhem is returning to East Lindsey the run up to Christmas – with the promise to get the Wolds dancing.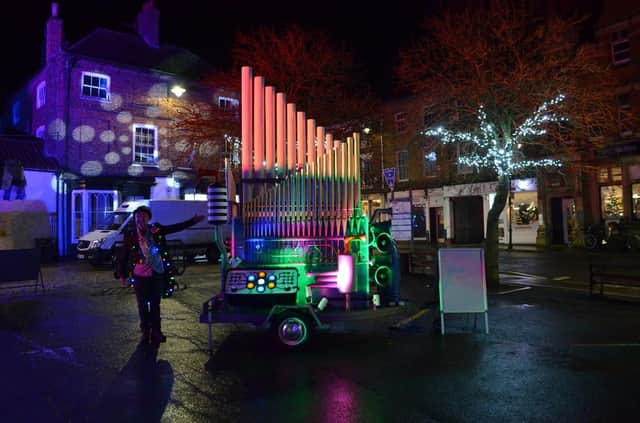 Festive Fabuloso is a creative community engagement project taking place across five towns.
Local dance groups and choirs will perform alongside street theatre, illuminations and lights – as well as the amazing Fabuloso Organ and a silent disco.
The event is designed to spread some seasonal joy and light across the Wolds.
This year the creative team are going to be working with a local dance group and a professional choreographer from The Hub in Sleaford to present Physical Fabuloso, a project that will see free dance workshops taking place in schools and community groups across the region in the run up to the five events.
The aim is to teach as many people as possible a new simple dance routine to a festive track that will be played at each event at several times allowing lots of local people of all ages – maybe even the whole crowd – to join in.
Event Producer Simon Hollingworth Simon Hollingworth said "The Different Light Collective and Spilsby Sessions House are delighted to be working once again in the five East Lindsey towns of Alford, Horncastle, Louth, Spilsby, and Wainfleet.
"This project is part-funded by the UK Government through the UK Shared Prosperity Fund and we hope to bring festive cheer, creative community spirit and more than a little bit of silliness to these five wonderful towns in the run up to Christmas and we can't wait to see the dance routines by local people in each town too!"
Here are the dates of the Fabuloso roadshow:
Saturday 25 November, 2pm – 5.30pm
Wainfleet Market Place – as part of the Wainfleet Christmas Lights Switch On
Saturday 2 December, 12pm – 5pm
Spilsby Town Centre – as part of the Spilsby Christmas Lights Switch On
Thursday 7 December, 4 – 7pm
Friday 8 December, 4 – 7pm
Saturday 9 December, 4 – 7pm
To find out more, including how to get involved in Physical Fabuloso, email Event Producer,