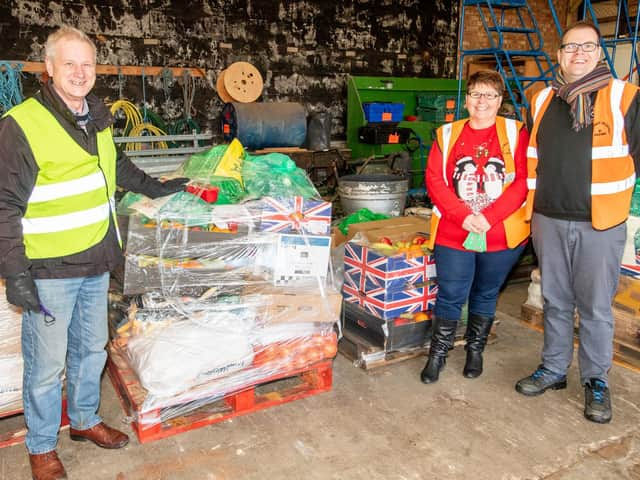 A lorry load of festive food arrived in the county last week, destined for churches and charitable organisations who before the global pandemic organised annual Christmas meals.
However, in spite of Covid-19 restrictions which put a stop to the majority of these, groups and organisations have still found a way of making a difference.
Twelve volunteers met the lorry at Ogelsbee Transport in Freiston to collect their palettes stacked with turkeys, bacon, sausages, vegetables, fruit, Christmas puddings and mince pies, ready for distribution in towns such as Boston, Louth and the Skegness area.
Co-ordinating the food collection at the depot was the Rev Steve Holland from Boston Baptist Church.
"It all went really well with everyone arriving on time so they could collect their palettes socially distanced," he said.
"This year there have had to be changes to the normal community meals which have been held as a result of the donation from the charity Buckingham Emergency Foods.
"Of course this is not ideal as the fellowship of a Christmas meal is so important but sadly the current restrictions mean this is not possible.
"Boston Baptist Church won't be having our Christmas Day dinner in the church but will be preparing meals to be delivered to those who are on their own and would not otherwise have a traditional Christmas Dinner.
"We will deliver meals on Christmas Eve to our most vulnerable parishioners but we are also distributing the fresh produce.
"We know from the response when we have called to ask if they would like it how appreciative they are.
"Isolation is such a real issue at the moment so even making this delivery and a few kind words socially distanced makes such a difference."
This is the 34th year Norfolk-based BEFA has been helping the vulnerable, supplying an estimated 20,000 Christmas meals across the region. Lincolnshire .has benefited for the past seven years as a way of saying 'thank you' for the produce which then charity sources from here.
Your newspaper group - JPI Media - has been involved for the whole of those seven years, joining forces with local partners and volunteers to organise community meals for the elderly and vulnerable in Spalding, Skegness, Spilsby and Wainfleet.
BEFA volunteers begin in the middle of December sorting and packing 80 tonnes of food, including fruit and vegetables and three tonnes of turkey.
Lorries were dispatched to collection points across the country, with food for 220 charities caring for the most vulnerable people in our communities.
The drivers for the project organised by Wainfleet Methodist Church in conjunction with the Skegness Standard were provided by Skegness Freemason Victor Fox.
Susan Alldread, of Wainfleet Methodist Church, said it had been disappointing the community meal was not able to go ahead but the food was still very welcome "We have already had numerous message, especially from some of the families from a local school that we have been supporting since the pandemic began, saying what a difference this has made to them.
"I'd like to thank BEFA and the Skegness Standard and our volunteers for making this happen.
"We look forward to a celebration meal after Covid."
Volunteer Leone Harding helped prepare the hampers and food bags at Wainfleet Methodist hurch. "It's been a privilege to be part of this.
"It's such a difficult and frightening time for people.
"Receiving a package says 'we are here for you'."
Another volunteer was Carl Parnham, so of the town's 'Santa' Wally who recently died.
"I wanted to come along today to give something back to a community that was there for me when dad died," said Carl. "I know he would have loved this. They have done a wonderful job."
Patrick and Betty Lowe were celebrating their 54th wedding anniversary and attended last year's Christmas meal.
"It's disappointing the meal hasn't happened but receive this food has been lovely," said Patrick. Hopefully we can get together at Easter for a meal."
Derek and June Driver, who were evacuated from their home in the floods and have only just been able to move back, received one of the hampers. "We are so grateful for this and never expected to receive so much," said Derek. "We will certainly enjoy our Christmas dinner now we are back in our own home."
East Coast Homeless Outreach (ECHO), which is based in Keddington Road, Louth, will have fed between 75 and 100 vulnerable people thanks to the donations from Buckingham Emergency Food.
Richard Speed, who co-ordinates the programme said volunteers working in bubbles would be taking hot food and drinks and a gift bag to vulnerable people in the Louth area, as well as manning outreach street kitchens in Lincoln and Grimbsy over the Christmas period.
"We have certainly seen more people come to us for help this year - self-employed people whose funds have run out as well as pensioners.
"The donations we get certainly helps us make a difference to these people.
"We are there for anyone who knocks on the door and like to think of ourselves as 'friends helping friends'".