Flood Alert in force: Rase and Upper Ancholme.
A flood alert has been issued for the the River Rase and tributaries from Market Rasen to Bishopbridge and the River Ancholme down to Bishopbridge.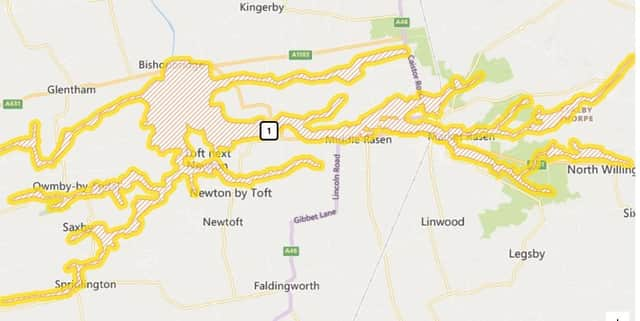 Flood alert area
Heavy rainfall overnight in the River Rase and Ancholme catchment area means rivers are now rising, which will lead to flooding of low lying land and roads close to the river from this morning (Wednesday, August 17) onwards.
The river is expected to remain high throughout today, however forecasts indicate flooding to properties isn't likely and therefore flood warnings are not expected to be issued.
The Environment Agency Is constantly monitoring river levels, and have staff in the field checking for blockages and clearing weedscreens.
Advice is to avoid using low lying footpaths near local watercourses and plan driving routes to avoid low lying roads near rivers, which may be flooded.
Alternatively, call Floodline on 0345 988 1188 using quickdial code: 207001 .