Food bank in Spilsby says 'massive thank you' to academy for harvest festival donations
A food bank in Spilsby has said a "massive thank you" to students, staff and parents at a local academy for their harvest festival donations.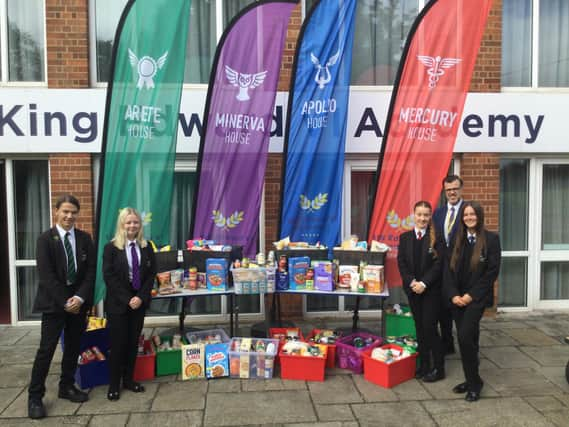 Spilsby Christian Fellowship has, like many other food.banks in the area seen a reduction in the amount surplus items being donated by supermarkets.
However, the church's Family Support Co-ordinator Judith Coe says the number of people needing support has risen.
The donations were made as part of KEVI's Harvest Festival collection, and included essentials such as tinned foods, pasta, rice and cereals.
Judith Coe expressed her thanks to KEVI for their donations saying: "I just wanted to take the time to say a "Massive Thank You" to all the staff, parents, pupils and anyone else at school who has been involved in collecting the harvest donations over the last few weeks.
"We have been astounded by the generosity and thought that people have obviously gone into selecting items to donate, and the amount of items.
"As Spilsby Christian fellowship is mainly self funding, it is wonderful when the local community get behind us and make such a fabulous contribution to helping us support families and individuals within the local community.
"Support of local schools is vital in enabling our work to continue . The contribution will help so many."
Jude Hunton, Executive Principal at KEVI, part of the David Ross Education Trust, said: "It is brilliant to see our whole school community join together to support the wider local community in Spilsby.
"Thank you so much to our students, their parents and our staff for their donations."