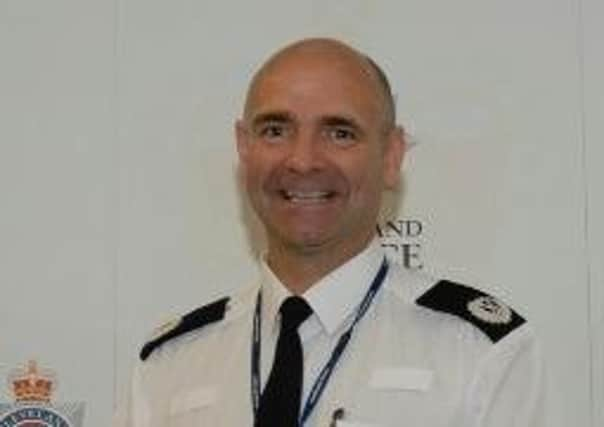 Mr Harwin retired from the post in May this year, following a career in policing that began in 1990 when joining Derbyshire Police as a Special Constable.
During his time at South Yorkshire Police, Mr Harwin held a variety of roles with a focus on local policing and partnership working. He was the force's head of business change and a chief superintendent for Rotherham during the child sexual exploitation investigations, where he worked to help rebuild confidence in local authorities.
Following his appointment as Deputy Chief Constable at Lincolnshire Police, in 2018, Mr Harwin chaired the Lincolnshire Local Resilience Forum during the Covid-19 pandemic, and became the National Police Chiefs' Council lead for drugs, developing the NPCC Drug Vision and Strategy for 2021-2024.
Prior to his retirement, Mr Harwin reflected on his time in policing and said: "Whilst in Lincolnshire I've had the privilege to lead the Local Resilience Forum in our response to the Covid pandemic, something I never dreamed I would be doing when I started.
"The hosting of the national police memorial at our beautiful Lincoln Cathedral was another highlight, where we brought the most senior police leaders, officials and families to remember the efforts of our colleagues that had given the ultimate sacrifice in keeping our communities safe.
"Every day, I see and hear examples of officers and staff going above and beyond to keep our communities safe. Those officers and staff can – and do – make a positive difference in our communities."
Chief Constable Chris Haward said: "This is richly deserved recognition following Jason's decades of public service.
"He displayed strong leadership during the unprecedented Covid-19 pandemic and has worked tirelessly to make a real difference to communities and individuals affected by drug use, both on a local and national level."
He is one of a number of people to have received New Year honours in the county this year.
Joanne Elizabeth Oliver, of Sleaford, has earned an Officer of the Order of the British Empire medal (OBE) for public service. She works as head of Approved Premises in HM Prison and Probation Service.
Ian Granville Whalley, of Louth, has gained a Member of the Order of the British Empire medal (MBE) for services to public safety and charity, having served as deputy chairman of the National Coastwatch Institute, as well as being its national fundraising officer, and working as a volunteer watch keeper at Skegness, having formerly served in the Merchant Navy.
Professor Geoffrey Price, from Stamford, a vice-provost for research, innovation and global engagement at University College London, has received a British Empire Medal. It is awarded for his services to science and to research, working in the department of earth sciences.
East Barkwith sub-postmaster and parish councillor David Ward also received a BEM for his services to the Post Office, while George Maddison, from Louth, gets a BEM for his services to the town.
Bryan Lynch, of Corby Glen, will receive a BEM as a fire service watch manager and services to the community.