Freemason completes gruelling cycling challenge for Rethink Mental Illness
​A Horncastle Freemason has cycled more than 100 miles to help raise funds for an important mental health charity.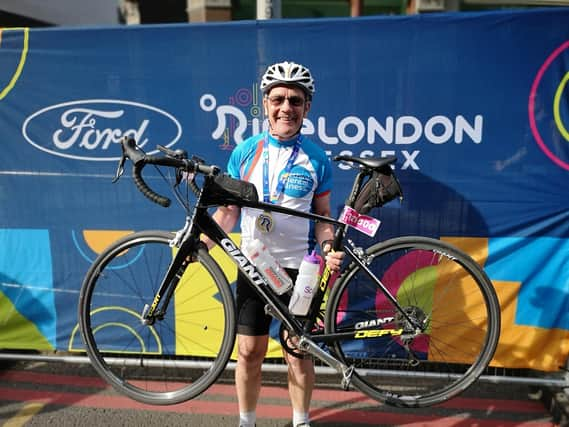 Andy Bagworth, a member of the Horncastle-based Free Wheelers Lodge, took part in RideLondon, an annual festival of cycling.
He managed to cycle 115 miles ride around London to raise money for the Rethink Mental Illness charity – an impressive feat as he said he only meant to cycle 100 miles on the day!Ditching his motorbike for pedal power, the member of the Horncastle-based Free Wheelers Lodge took part in RideLondon on Sunday May 28 alongside thousands of other cyclists, finishing the gruelling challenge in an impressive six hours, 55 minutes and 40 seconds.
He said: "I'd aimed to ride 100miles, but I actually cycled more than 115 on the day.
"It wasn't easy, but I had trained hard for the event and was still able to walk OK on the Monday morning!"I managed to raise a total of £635 and a further £103.25 through gift aid, which has now been donated to Rethink Mental illness – a charity which helps and supports an enormous number of people, who may be suffering from mental health issues."
In total, Andy has raised an impressive £750 for Rethink Mental Illness.
Intended as an annual legacy of the London 2012 Olympic and Paralympic Games, RideLondon was first held in 2013 and sees a series of cycling events on closed roads around London and Essex for amateur and professional cyclists.