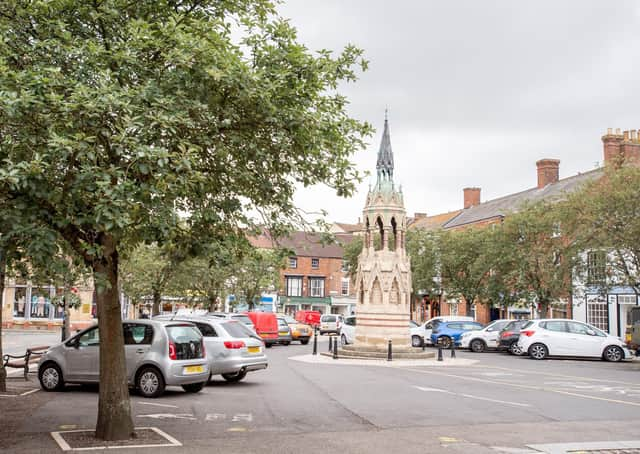 Town and County Councillor Bill Aron, (Horncastle and the Keals) told fellow councillors that discussions are in place with Lincolnshire County Council.
Speaking at this month's Horncastle Town Council meeting, Coun Aron said: "I've had a walk round the town with Councillor Richard Davies and three senior officers.
"One thing we discussed is something that we (Horncastle Town Council) would like to see happen which is partial pedestrianisation.
"They agreed that they would look at that and try and get it implemented fairly early on.
"They agreed to also look at St Lawrence Street and whether that could be pedestrianised.
"If not, the idea could be to implement a 20mph zone."
Councillor Alan Lockwood said: " Partial pedestrianisation of the Market Square and St Lawrence Street - that is not what we asked for.
"We actually want it blocked off so that businesses round there can come into the streets.
"It has been encouraged by the national government and all sorts of business regimes.
"I cannot understand why it is still not a consideration by Lincolnshire County Council when actually what it should have done is implemented it with a matter of urgency.
"The simple fact of the matter is that businesses are stagnating themselves because nobody is coming in and nobody wishes to come in because there is nothing to come in for.
"So we asked a simple thing - we asked five/six years ago now to pedestrianise St Lawrence Street and the North side of the Market Square.
"You've taken it on and you've taken it yet again to another level where we are not getting answers.
"All we get from you is 'it's being looked at' and the challenge for us as a town council is to go back to our businesses and say to them 'it is being looked at' and they are saying 'why is it still being looked at when we want decisions'.
"So, please Bill, what I want from you is evidence.
"I want evidence that this meeting is taking place, I want evidence from you- email or whatever - to say it is being considered properly and when we will get a response and when we might be able to actually start planning to do this.
"It was proposed by me three months ago - it was proposed by the town plan five years ago.
"Don't be silly, we don't need a 20mph speed limit down St Lawrence Street.
"You can't go down through there at any less than 3/4mph because of the pedestrians.
"It is a hazard to the road users there because of pedestrians.
"It needs to be closed off and there is no reason not to do it.
"All we are stuck with is we are not getting any answers, we are not getting a timescale from Lincolnshire County Council.
"Can you please press them to give us an answer as quickly as possible?
"Otherwise, the whole of the summer will drift by, nothing will get done, and we won't have gone forward any further and we won't ever see it happen."
Councillor Dominic Hinkins said: "I just wanted to agree with Coun Lockwood.
"It has been going on a long time and I understand there is a lot of stuff and bureaucracy that has to go into making it a permanent change even though it has already taken five or six years.
"As a temporary change, how about putting out some traffic cones in the aftermath of Covid-19 just to help local businesses?
"I would imagine that could be done more quickly than a permanent closure. It could be done with immediate effect with LCC input."
Coun Aron said: "We would not be able to do it with an immediate effect.
"What I've asked for is that it is looked into with urgency."
Later in the meeting, the matter was discussed again - perhaps by using some of the £20,000 allocated to 
Horncastle.
Coun Hinkins said: "It does say the money can be used to support road closures, traffic management, pedestrianisation of high streets and temporary barriers, which is exactly what I was talking about before in relation to the Market Place."
Coun Lockwood said: "Please hasten the road closures with LCC so that if we get agreement that those pieces of roads can be closed we can then ask for finance from ELDC to get the barriers to block it off and we can get on with arranging the Market Square."
Coun Brian Burbidge said: "We could, of course, progress this very swiftly by applying for a road closure which would have set the ball rolling."
Coun Lockwood said: "I want the whole concept of us changing that part of the town so that we own it and so our businesses can use it and not just get a temporary closure.
"What I want is for Coun Aron to get onto LCC to press them so we can close the north side of the Market Place, close St Lawrence Street and we can erect planters to make that a part of the town which we can enjoy and businesses can be encouraged to use.
"I know it is a long-term plan but we do need a little urgency because of the situation we are in at the moment."
Coun Martin said: "I think we are all supportive of the concept and want to help do what we can to facilitate it as soon as possible."
Coun Hinkins added: "Although I see what Coun Lockwood is driving at in terms of getting it closed off more permanently, the suggestion from Coun Burbidge would be a short- term intermediate solution while we wait for that to get done."
Coun Aron replied: "You've got the executive councillor for highways, transport and IT, plus three senior highways officers all prepared to support getting this done quickly so I don't think a temporary road closure from us would be what Coun Lockwood is looking for."
Town Mayor Coun Fiona Martin said: "I've got two different opinions.
"Coun Burbidge - did you want to put forward a proposal that we do go for a temporary or are you happy to leave it for a while?"
Coun Burbidge said: "My point was not to put a very short one-day closure in place but to put a road closure in for the next three months."
Coun Martin replied: "Coun Lockwood, you've lead on this, what do you think?"
Coun Lockwood said:"Wonderful idea but I would really like to continue to let Coun Aron press the team at LCC to get a resolution as quickly as possible.
"Coun Aron has said these meetings have taken place and that he has got it in the grip of his hand.
"Therefore, let us give him a chance now to come back to us with some timings and dates when this may be able to happen.
"I would also say that Coun Burbidge has a good point.
"If we haven't got an answer in the next week or 10 days then I will come back to you and ask for the council's authority to apply for road closures on St Lawrence Street and Market Square for a period of two to three months over the summer.
"We are going to need that sort of timescale for businesses to get themselves sorted out.
"My request is we give Coun Aron a week or so to get this enacted otherwise we apply for a road closure."
Coun Martin said: "That sounds a sensible idea to me."
Councillors agreed to give Coun Aron a fortnight to sort out the issue and that they would apply for a road closure if no action had been taken in that period. Coun Burbidge said: "I am quite happy with that - I am looking to progress this thing.
"In August/September the weather will start to deteriorate and it means businesses do not get the maximum opportunity to recover some of their losses.
"They (Lincolnshire County Council) may well turn us down for a road closure but at least it would express our interest in a real, big way.
"Happy to go with Coun Aron/Coun Lockwood on the whole thing.
"Of course, there will be an expense as we need to look at all of the costs involved."
Coun Martin said: "If we can we ought to spend as much of the allocated £20,000 to achieve what we want."
The discussion was ended by Coun Lockwood promising he would keep fellow councillors in the loop with any updates on the progress of pedestrianisation plans.
• A press release issued by Lincolnshire County Council after deadline yesterday (Tuesday) revealed changes which will be made to streets to make cycling and walking easier.
The Department for Transport granted the council £105,500 from the first round of the emergency active travel fund to support the installation of temporary projects during the recovery from Covid-19.
Work will start in the coming weeks on the emergency active travel fund first round interventions, which are as follows:
Road closures and pop-up cycle lanes - Market Place (North), Horncastle – pedestrianisation
• For more on this story and a statement from Councillor Bill Aron see next week's Horncastle News.