Fresh concerns from councillor and residents over highways repairs carried out in Horncastle
Concerns have been raised over pavement repairs in Lindsey Court and potholes in Queen Street.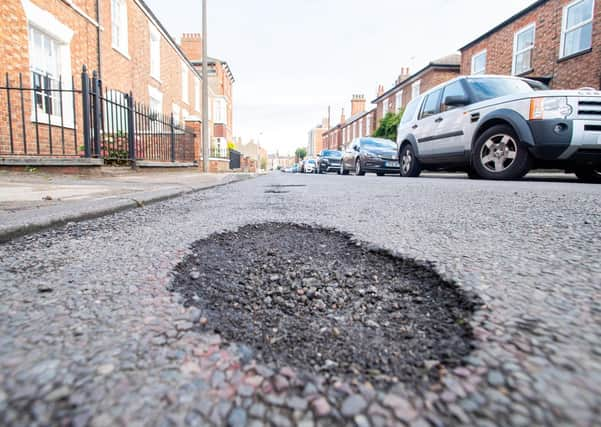 Town councillor Richard Barker reported the paving slab in need of repair in Queen Street and then received a completion response from FixMyStreet.
But Councillor Barker says the work has not been completed to the right standard, and another slab in the same area which requires repair works has been left untouched.
Several residents - including Nick Holt - have contacted Councillor Barker and The News with concerns about Queen Street.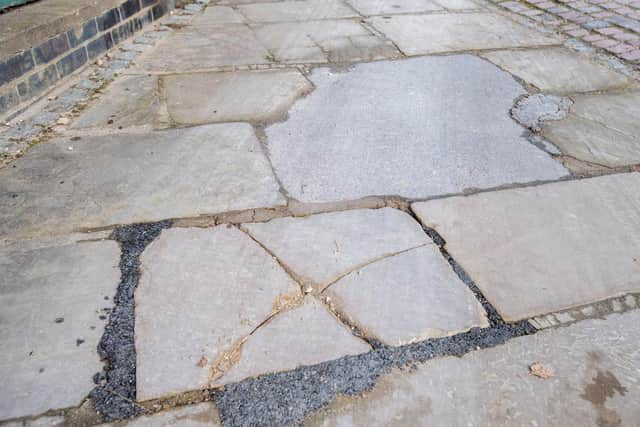 Mr Holt has also raised highways issues regarding Banovallum Gardens and Foundry Street.
Councillor Barker said: "The reported fault of a York slab being broken and dangerous has not been repaired in an acceptable way.
"The broken slab remains in place and three strips of tarmac around three sides.
"If the argument is, this is only temporary, then this makes no sense as four other locations in the same area have been grouted up with quick setting cement. This should have been the method used.
"However, within five metres, the yellow dotted York stone slab, which has been like this for several months, has not been repaired.
"This is not the way to use labour, time and resources in a cost effective way.
"The four repaired York slabs in the same location took four separate visits, over approximately six weeks.
"This reinforces the need for Lincolnshire County Council (LCC) Highways officers to come to the table with the Highways Working Group (HWG) in an open and honest discussion, so both sides can explain their problems and understand how we can both move forward."
Speaking in an individual capacity, town councillor Dominic Hinkins added: "As a member of the HWG, I am painfully aware of the recurrent issues with road and pavement surfaces in Queen Street and elsewhere in Horncastle, which speak to neglect by LCC.
"Years of underfunding of Lincolnshire roads and infrastructure has led to a huge backlog of repairs.
"HWG has raised these specific faults with LCC numerous times, but sadly we have no power to force them to sit up and take notice if they don't want to – and their tendency is to block anyone they regard as difficult or unable to engage constructively.
"Residents, of course, can show their displeasure at the ballot box, but in the meantime I'm encouraging HWG to focus on rebuilding relationships with LCC Highways so they will meet us, take our complaints and criticism on board, and take note of our local knowledge.
"There are no easy fixes. Careful diplomacy is the only way to make sure Horncastle gets a fair share of the pie, and roads like Queen Street get the maintenance and upgrades they desperately need."
Resident Nick Holt added: "As a resident of Queen Street, it's so frustrating to see this lovely street look so scruffy.
"It's one of the oldest streets in town and in a conservation area so how LCC can allow it to fall into such a dangerous state is beyond me.
"I live in Portland House which is the first house to be built on Queen Street over 200 years ago. My wife and I have fully restored the building to its former glory over the last three years while the street has deteriorated and been neglected.
"We have had two cyclists come off their bikes due to potholes and an elderly woman fell over (my wife helped her up) because she tripped in a pothole while crossing the road.
"I also notice that nearly all the roads in the Banovallum Gardens estate have been re-surfaced and re-dressed, begging the question - why?
"The estate is relatively new and as a cyclist and dog walker, I've never noticed it being a bad road surface."
The News contacted LCC for a statement.
Regarding the Queen Street paving slabs, Coun Bill Aron, local member for Horncastle on LCC, said: "I'd like to thank Coun Barker for raising his concerns with us about damaged paving slabs in Horncastle.
"We're all keen to see highways in Horncastle being the best they can be, so I'll always happily work with our local Highways team to help fix problems when they occur.
"In this instance, the team have confirmed that the repairs are temporary, to make the path safe whilst suitable replacement slabs are sought.
"We've also raised with our contractor that a nearby broken slab seems to also need making safe.
"Anyone who spots a problem on our roads or footpaths can report it directly to the council's Highways team through FixMyStreet and the team will fix it as soon as they can – go to fixmystreet.lincolnshire.gov.uk."
In regards to Queen Street and Banovallum Gardens, Coun Aron said: "I have been in touch with our local Highways team about Queen Street and they have assured me that repairs are scheduled for the road in the coming weeks.
"I detest potholes just as much as other residents.
"It's especially concerning to hear that members of the public are potentially injuring themselves where there are defects in the road, so I'm glad the team have confirmed the road will be repaired soon.
"Roads on the Banovallum Gardens estate were surface dressed this summer.
"This is a process that Highways use across the county to prolong the life of roads by 10 to 15 years, and is much more cost effective and quicker than resurfacing.
"By doing this, we can keep these roads in a good condition for much longer, and focus efforts on roads that have reached the end of their life."