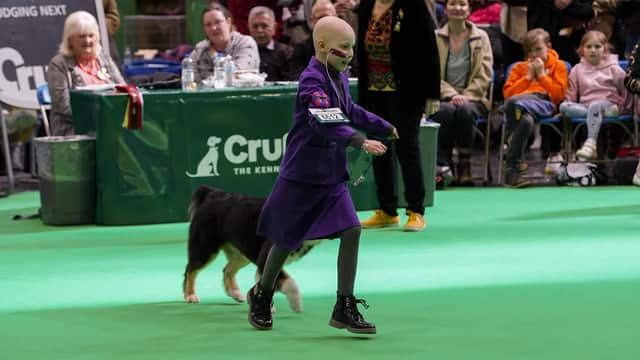 Freya Harris and her nine-month-old dog Echo wowed the judges as they competed in the Australian Shepherd puppy bitch class on Friday (March 10) and claimed the reserve rosette.
Freya was diagnosed with Wilms' Tumour, a rare form of kidney cancer, in December 2021 and took up showing after years of watching Crufts on the TV with her mum Gemma.
And after dazzling on the NEC Birmingham's famous green carpet, she said: "It was amazing to finish in second place. I was expecting to finish last place and even then I would have been so happy, but there is me getting second place.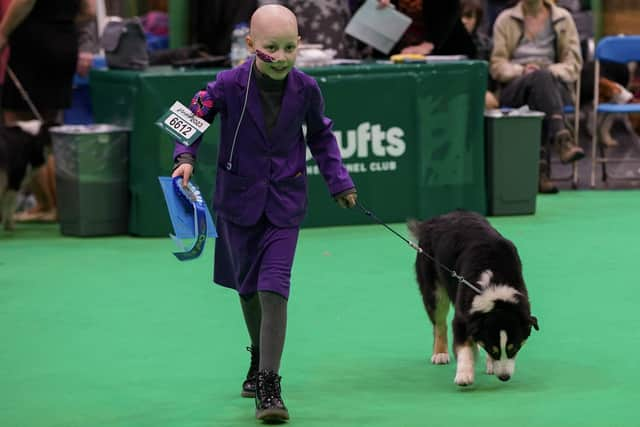 "I nearly cried in the ring. I feel very proud of myself.
"I have done lots of things that I have never done before, I have stroked all the dogs and had ice cream!
"It feels amazing to show Echo here today – I never thought I would get this far. She has helped me a lot, there are many things I couldn't do without her."
Freya has been in and out of hospital since her diagnosis and Echo was originally bought by her parents to encourage the eight-year-old to go for walks.
At only their first show together, Freya and Echo qualified for Crufts having only left the hospital in the early hours of the morning after receiving a transfusion.
She was cheered on by several members of her family and was given rapturous applause by the whole audience as she competed on the NEC carpet.
Her mum, Gemma, said: "It's amazing seeing her show today – it's mind-blowing, once in a lifetime. It has been incredible.
"She has been absolutely buzzing, full of emotion. She had a little wobble before she went in the ring, the nerves took over and she didn't think she could do it, but she has had an explosion of excitement.
"It was incredibly emotional to see her go out there and absolutely smashing it, strutting her stuff. There wasn't a dry eye, we were all crying.
"We had no expectation at all, but we weren't expecting her to finish second in her class.
"The winner came over and offered Freya her first-place rosette and we turned it down and said she is going to try and get it herself, but it was so nice.
"We are proud of her, and will always be proud of her, but to see everyone else rallying around her and spurring her on is really heart-warming."