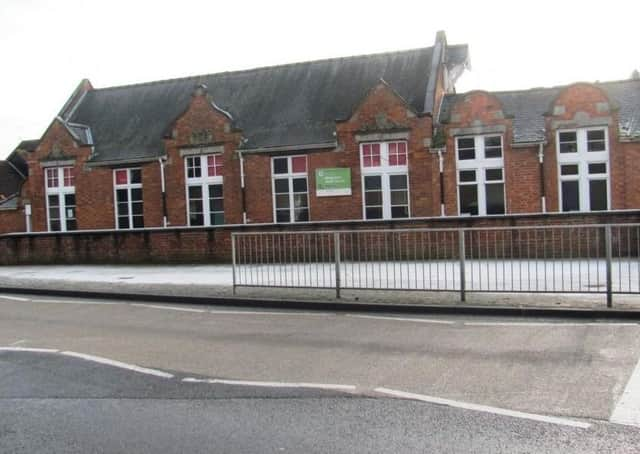 Horncastle Youth Centre - the clock is ticking in the fight to save it from closure
Coun Dominic Hinkins is seeking £25,000 of town council funding on behalf of the trustees of the centre to support ongoing efforts to keep it open.
Coun Hinkins is chairman of the trustees looking to take over the youth centre building from current owners Lincolnshire County Council.
At last week's town council meeting, Coun Hinkins appealed for £25,000 of council funding to support the youth centre campaign.
Coun Hinkins is also a member of a town council working group that is working on a plan for a recreation ground in Horncastle.
That latter group has secured £50,000 of council funding and a proposal - supported by Coun Hinkins - to return that money to the council's reserves was defeated at last week's meeting.
During a debate about the proposal to return the money, Coun Mark Everton criticised the youth centre campaign.
He said: "I have been at (using) the centre for a lot of years.
"My family and my children have been there.
"It's never been fit for purpose.
"It's too near to elderly residents who are always complaining.
"There are better places in the town that we could use as a youth club.
"We definitely need one but I'm sorry, this is not the place.
"They (the trustees) are wanting us to spend money on it but it is throwing good money after bad.
"It (spending money) has been done for years and years and it (the building) will never get any better.
"You can't polish it - no matter how much polish you use.
"We need to put money into the (recreation) park, as you have lots of people saying. "
Coun Everton went on to say taking money from the park project and channelling it into the youth centre fight would be 'robbing off one to pay for another.'
Coun Hinkins' request for funding was deferred until a meeting between councillors and trustees to study a business plan that they (the trustees) have put together.
Coun Hinkins agreed with the deferment but later in the meeting he hit back at comments about the Youth Centre
He said: "I'm quite disappointed with some of the views expressed (like) 'what a waste of time the Youth Centre is.'
"That is deeply inappropriate. I would like to see the councillor who made the comment say it to the faces of the young people who would love to be back in the building."
Coun Hinkins said he looked forward to discussing the business plan with councillors.
However, he warned the county council was scheduled to make a decision on the centre's future - before the next town council meeting in March.
The county council closed the building 18 months ago, saying the costs of repair work did not justify keeping it open - despite it being well used.