Gainsborough craft business is expanding as it moves to bigger premises
A Gainsborough business has moved to a brand-new premises as they look forward to a bigger and brighter future.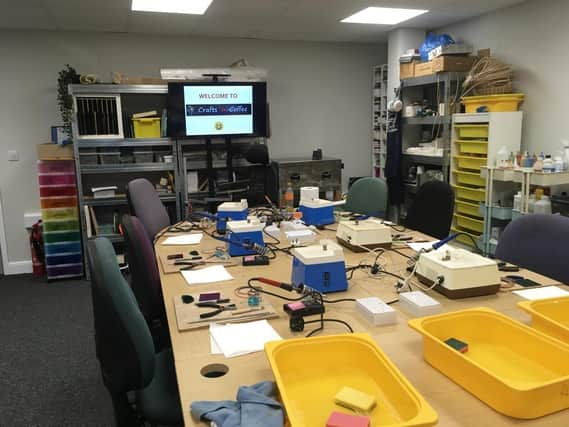 Crafts 'n' Coffee, owned by Ann Walker and Darren Parr, started in April 2021, offering craft workshops and courses in a small shop on Curtis Walk.
It has now moved to a new building at The Storage Team Building on Caldicott Drive, Gainsborough, where there is now space for more course materials and tools, alongside a new large screen monitor to show people at the far end of the workshop what is being demonstrated.
Ann said: "We went along for a look and fell in love with a room that we thought would be perfect for us. A few days later we'd signed up and were moving our masses of stuff in from the August 28.
"In the middle of the move we also did a five-day show down at Sandringham. But we're in now and the space is ideal. I can now take over eight students in a much bigger room."
To celebrate their move, they had an open day on Saturday, September 30, to showcase what they do.
Looking forward to the future, Ann has scheduled in lots of new workshops and courses over the coming months.
She said: "We have a whole week of Halloween workshops for the kids over half-term.
"The adult workshops include the firm favourites like fused glass, stained glass, bookbinding, wire jewellery making and no-sew ornaments.
"I'm also planning more completely new workshops which we didn't have space for before. Such as, a workshop for those who have had a sewing machine for years but not even taken the lid off."
Crafts 'n' Coffee are also planning a get-together for people to bring their own projects along to either get help with them or to just enjoy the company of other like-minded people.
Coun Stephen Bunney, chairman of West Lindsey District Council, said: "It's great to see another successful local business in Gainsborough expanding and going on to achieve great things. We wish Craft's 'n' Coffee the best in their adventure and we hope people attend their opening day and learn some new skills."
For more information, you can visit Crafts 'n' Coffee website or contact them via Facebook messenger.