Gainsborough people help create mosaic art project for library display
Gainsborough school children were among those who helped place thousands of tiny mosaic pieces on a special 'Tides of Time' mosaic art project which will soon be displayed at the library.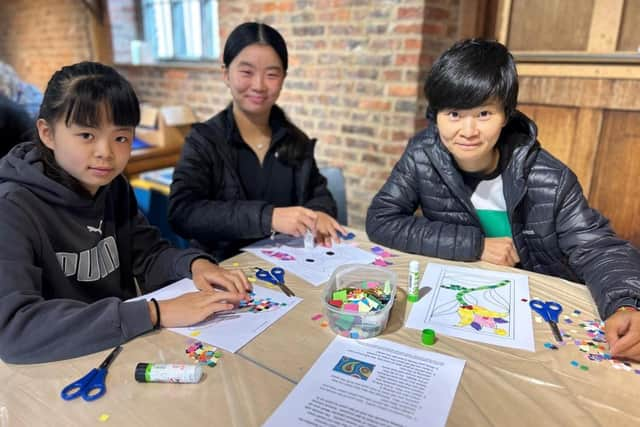 The Tides of Time mosaic artwork, which was completed as part of The Big Draw 2023, has been a labour of love for the whole community including ten classes from The Gainsborough Parish Church of England Primary School and Mercer's Wood Academy.
Tracy Sellars, from Gainsborough, who took her children along, said: "The children love doing crafts and so we thought we would pop in, especially as the weather has been horrible and activities like this gets us out the house and keeps them busy."
Sophie Bee, ten, and her mum Lisa from Gainsborough took part in the activities.
Sophie said: "We have done a mosaic at school before, and we did some on the floor in Marshall's Yard in the summer. I made a mosaic butterfly and put it in a heart frame as I love butterflies."
Participants were able to choose from a number of templates to choose from.
Wendy Cao and her family Ella He, 11, and Yuki HE, 12, also supported the event.
Wendy said: "My daughters love crafting and we love doing activities like this together and was nice to go and do it at the Old Hall."
Theresa Workman, West Lindsey District Council's Townscape Heritage activity coordinator, led the workshop.
She said: "It was so lovely to see different generations of the community taking part who helped us to complete the 'Tides Of Time' mosaic.
"We are looking forward to it starting its new life at the Gainsborough library where many schools joined us to take part in the projects during national library week.
"In addition to the large community artwork, we invited families to create their own mosaics from templates and some event created their very own mosaics from scratch using their imaginations, which was great to see.
"People have really appreciated the environmental aspect in that we worked with scrap paper and repurposed it for the workshop."