Gainsborough's new Sir Hickman Bacon Memorial Park is now open
A new and improved playground for children in Gainsborough has now been officially opened.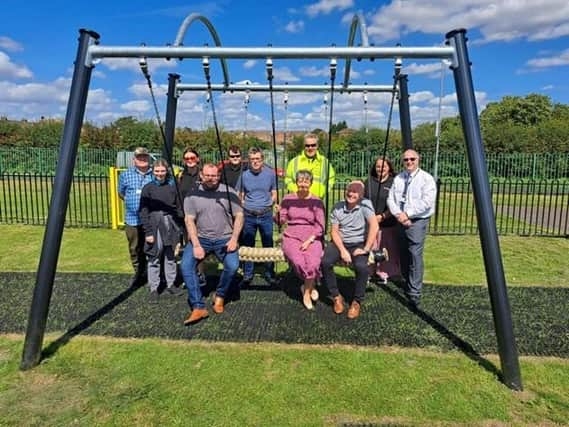 The Sir Hickman Bacon Memorial Park is now up and running following its official opening attended by Gainsborough Town Council leader Coun Richard Craig along with councillors from both West Lindsey District Council and Gainsborough Town Council at the facility on Love Lane.
The Hickman Bacon Memorial Park (Levellings) is an existing park for which Gainsborough Town Council have sole responsibility but the years though have taken their toll on this once thriving park.
As part of the renovation the park now has a redeveloped junior play area with swings, slide and roundabout and an improved teen area containing popular climbing and skate equipment.
The project has been funded by a £100,000 grant from FCC Communities Foundation as well as £8,000 from West Lindsey District Council.
Coun Richard Craig, leader of Gainsborough Town Council, is delighted that the project is now in use.
He said: "This vital facility is going to make a real difference to those who use it, as well as the wider Gainsborough community.
"We are extremely grateful to FCC Communities Foundation for providing funding as we would not have been able to go ahead without its support."
Grant White, communities manager at West Lindsey District Council, said: "We are pleased to support the new play park at Levellings and we hope the new park will encourage people of all ages to get out, have fun and exercise."
FCC Communities Foundation is a not-for-profit business that awards grants for community projects through the Landfill Communities Fund.
Cheryl Raynor, grant manager at FCC Communities Foundation, said: "We are delighted to have supported the council in bringing this project to fruition.
"This is an exciting project which includes some challenging pieces of equipment which I'm sure will be enjoyed by local children."
For more information about FCC Communities Foundation funding visit www.fcccommunitiesfoundation.org.uk.