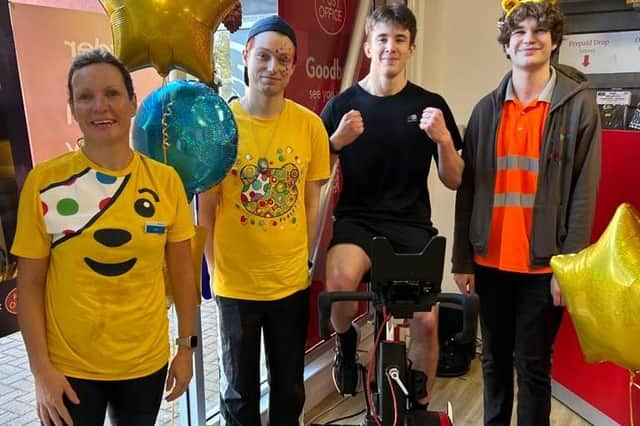 GALLERY - Children In Need fundraising around Sleaford sees breakfast in pyjamas and cycling to London
Schools and businesses have been doing their bit around Sleaford to raise charitable funds for the Children In Need today (Friday).
With the BBC charity telethon kicking off later this evening, community-minded people have been showing that despite the Cost of Living Crisis, many are still willing to go that extra mile or dip their hands in their pockets for a good cause.
Staff from Barclays Bank and Sleaford Post Office in the Riverside Precinct took on a cycling machine challenge, inviting donations and sponsorship.
Postmaster Lee Taylor, along with staff Kyle McDonald and Will Chenary, were joined by Kerri Foster, from Barclays, who holds weekly banking services drop-ins for customers in am office at the shop.
Lee said the challenge was to cycle the 150 miles from Sleaford to the BBC's Television Centre in London within the day.
Just after 3pm, they had reached 109 miles by taking it in turns on the bike and Lee was confident they would achieve their goal – in between hopping off the saddle to serve customers.
He said that when Kerri needed to meet with a client, he would take her place and keep pedalling.
They had collected over £300, with more to come in sponsorship from neighbouring businesses and Barclays had pledged to match the figure pound for pound.
Meanwhile, staff and children spent the day fundraising at Winchelsea Primary School in Ruskington.
Headteacher Helen Duckett said: "We've had a great day. Everyone arrived in their pyjamas and we had breakfast together which was no mean feat with over 230 children!
"After that, children had the chance to have their face painted like Pudsey, put all the coins on our large Pudsey picture boards and this afternoon we had our raffle for Children in Need prizes after selling raffle tickets throughout the week.
"We are all exhausted but proud that we have raised over £440."