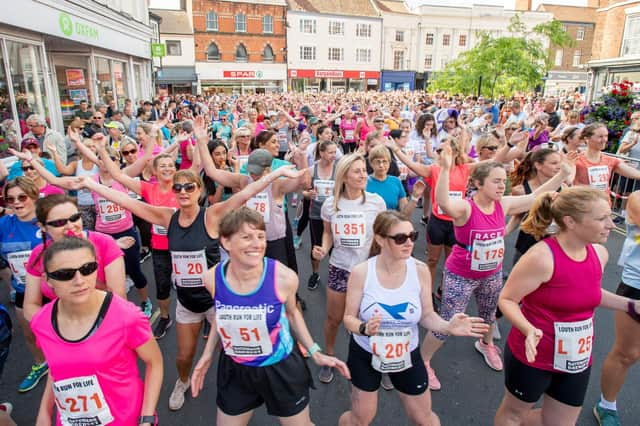 Participants in the women's Run for Life 2022 warming up.
The 15th annual Louth Run for Life took place on Sunday (June 26) with more than 750 people taking part in the junior, women's and men's races.
The route started in the market place and headed out of the town centre, down Gospelgate, onto Crowtree Lane and through Hubbards Hills, before heading back along Horncastle Road, onto Edward Street, Gospelgate, to Mercer Row and finishing in the Cornmarket.
The first three finishers in the under 12's race were Lewis Topham in first place, with Eva Costa Jackson in second and third was Finley Tomlinson.The first home in the Women's race was Emma Pennistone, while Danni Topham and Laura Dalton in second and third respectively.The first three finishers in the Men's race were Ross McGregor in first, with John McNamara in second and Alfred Vickers in third.
Youngers taking part in the Run for Life, from left: Evely Lovelle 9, Zoe Jones 9 Aby Turner 8 and Poppy Chapman 10.
Chairman of the Louth Run For Life committee, Simon West, said: "The event cannot happen without marshalls and volunteers.
"We had over 50 people who gave up their time to cheer the runners around the course and ensure they were all safe.
"I'm pleased to say I have had amazing comments back about our event, and our volunteer marshall's and that makes me extremely proud. Thanks to you all - you deserve a big round of applause."I am always pleased when I see the last runner cross the line and the event happens without any major incident."This can only be done with months of hard work and planning from a small group of dedicated local volunteers who are on the Louth Run For Life committee."They work tirelessly behind the scenes in the weeks and months leading up to race day, and that planning comes to fruition on the day. I would like to personally thank you for all of your hard work to make this amazing event happen each year - you should all be extremely proud. I know I am extremely proud of you all. You make make my job as Chairman a lot easier."Simon also thanked Andrea Day from CRUK for his help and guidance with the event and Sharon Davies from the Kings Head Hotel for putting on an after run party.
Next year's Run for Life date has been announced as Sunday June 25.
All dressed up at the Louth Run for Life, form left: Julie Towse and Michelle Stocks.
Participants of the men's race.
Crossing the finish line at Louth's Run for Life.
The start of the junior race at the Run for Life 2022.
Gentleman runners in the Run for Life.
The third place winner in the women's race.
Some fantastic costumes at the Run for Life.
Staff from the Archer Ward of Louth Hospital running in memory of colleague Lindsey Burnett, who passed away in 2021.