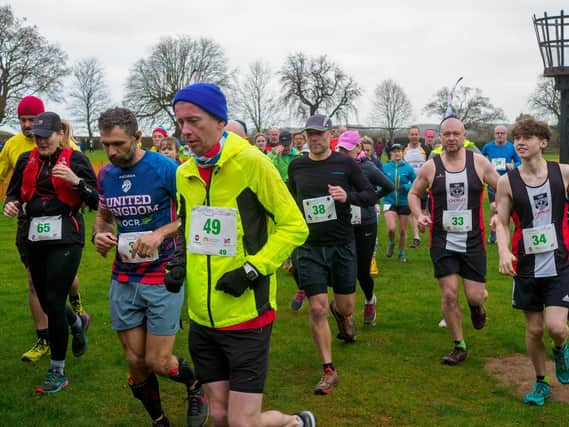 GALLERY: Muddy runners - and four-legged companions - take on countryside Dash!
More than 200 runners, both two and four-legged, battled muddy conditions and rainy weather to take on a popular 'Dash' through the countryside.
Published 28th Mar 2023, 15:50 BST
Updated 29th Mar 2023, 09:33 BST
The Caythorpe Dash made a triumphant return on Sunday (March 26), with runners coming from across Lincolnshire and beyond to take on the half marathon and 5km fun run, with more than 25 runners also running with their dogs taking on the Canicross events.
The half marathon event saw the runners take in villages including Sudbrook, Carlton Scroop, Gelston, and Hough on the Hill, and then along to Frieston and back to Caythorpe, watching their step in the muddy conditions.
First female runner across the line in the half marathon was Samantha Cullen, of the Eye Community Runners in Peterborough, in 1:29:08 with Lincoln's Trudi Allen in second in 1:48:45, and Evelyn Vickery in 1:54:32 in third place.
The first male home in the half marathon was James Ross, of Sheffield, in 1:19:46, with Alan Wheeler of Boston Triathlon Club in second in a time of 1:34:12, and Steven Roberts of Boston Community Runners in third in 1:34:47.
In the Half Marathon Canicross event, Jess Ross of Sheffield crossed the line in first place in a time of 1:37:43, with Vicki Blackshaw of Peterborough Paws in second in 1:48:00, and fellow Peterborough Paws runner Emily Murdoch in third in 1:56:08.
The first 12-15 junior home in the 5km fun run was William Walford of the Cliff Villages Runners in 20:07, closely followed by Liam Whittaker in second with 20:47, and William Taylor in third in 23:56.
William Walford also came third place overall in the 5km fun run, with Ben Allen of Lincoln coming in first place in 17:53, and Rori Rodell of the University of York coming second in 18:58.
Winning the Canicross 5k was Sarah Murdoch of Canicross Lincolnshire in 18:24, with fellow Canicross Lincolnshire member Paul Chandler in second place in 19:53, and Alan Carley of Grantham Running Club in third in 21:24.
Those taking on the 5km may have spotted a rather brightly coloured, rotund runner – Paul Bagshaw was running the fun run dressed as Bert, mental health organization Shine Lincolnshire's mascot, to raise funds for the charity, accompanied by colleagues Sarah Mainwaring and Jo Taylor.
Runners were able to enjoy a 'cake fest' in the Caythorpe Sports & Social Club afterwards, with cakes donated by Jan Dudfield and her team of 'cake fest ladies'.
He finished the race in 43 minutes, and the Caythorpe Dash committee have also donated £20 from the cake fest to Shine.
The Dash was also a poignant one, as organiser Dave Fidler has now passed the baton over to new organisers Kim Farr and Mel Hart, who will be taking charge of the event in the future.
Dave has paid tribute to the volunteer marshalls, who gave their time for free to ensure the Dash ran smoothly:
"It's great to see the look of happiness and enjoyment on the faces of all the competitors (including the dogs!) – and your help and support to the competitors makes them want to return," he said.
The committee have also extended their thanks to photographer Richard Hall for taking the race photos, seen here in this article.