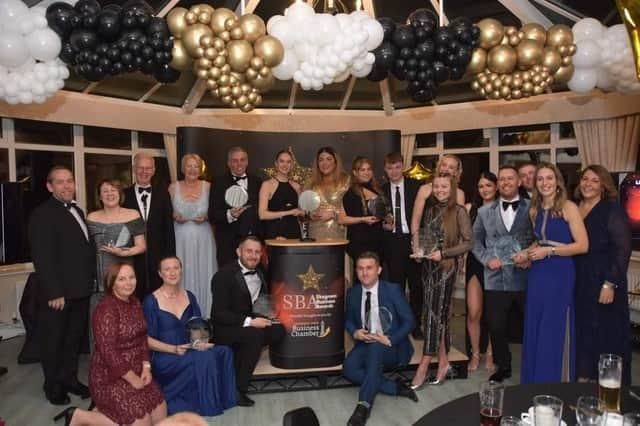 GALLERY: Stars of Skegness Business Awards shine - here are the winners
A former chairman of the Skegness area Business Chamber has been awarded the Lifetime Achievement Award in the Skegness Business Awards.
Published 17th Nov 2023, 11:36 GMT
Updated 20th Nov 2023, 09:16 GMT
Paul Dixon was honoured for his work as a local businessman owning the New Park Club and his prominent roles within the local and county branch of the Royal British Legion.
"A lot of people come together to make nights like this happen and it is very humbling to receive this award," he commented.
"It's very flattering and about the community pulling together."
Stars of the Skegness Business Awards 2023 shone in 12 categories at the glittering ceremony held at the North Shore Hotel on Friday night.
Returning after a four-year break due to the pandemic, Chairman of the Chamber, Paul McCooey, said they are proud to be able to allow local businesses to shine.
He commented: "I think the awards have been a great success. It's wonerful to see so many up and coming businesses and I've heard stories that some are looking to do business together which is a real upside of events like this.
"It's nice to see Skegness in their finery. I think they have done themselves proud.
"And to those nominees who didn't get an award, they have done really well to get this far.
"We are extremely proud at Skegness Area Business Chamber to give these businesses an opportunity to shine – it's been a great success all round."
One of the special guests was MP for Boston and Skegness Matt Warman.
He said: "It's a fantastic turnout celebrating the great businesses of Skegness – old and new.
"What we've seen since the pandemic is that Skegness has been incredibly resilient but it has been tough.
"Events like tonight help us to highlight those businesses doing such good things to attract people and continuing to ensure that this part of the coast thrives."
The awards finalists with winners shown by asterisk are:
Health and Wellbeing Award (sponsor Empreo)
- Change Your Future Therapy
- Olivia Brown Sports Therapist *
- Kerry Rye Fitness & Exercise for All
- Food and Drink Award (sponsor Fix Auto)
Customer Service Award (sponsor Stagecoach)
- Home Move Estate Agents
Best New Business Award (sponsor J&R Wristbands)
Best Industrial Business Award (sponsor The Hive)
Community Award (sponsor ELDC)
- Fantasy Island Operations Ltd *
Young Peoples Learning Provision Education and Training Provider Award (sponsor Duncan and Toplis)
Accommodation Award (sponsor Insights for Knowledge)
- Lincolnshire Coastal Cottages *
- Home Farm Park Luxury Barns
- Meadow Lakes Caravan and Lodge Hire
Green Award (sponsor Skegness TEC)
- Lincolnshire Wildlife Park *
Visitor Attraction or Event Award (sponsor Fantasy Island)
- Lincolnshire Wildlife Park *
- The Village Church Farm Museum
Learning Achiever Award (sponsor First College)
For video interviews with the winners see the Skegness Standard Facebook Page.