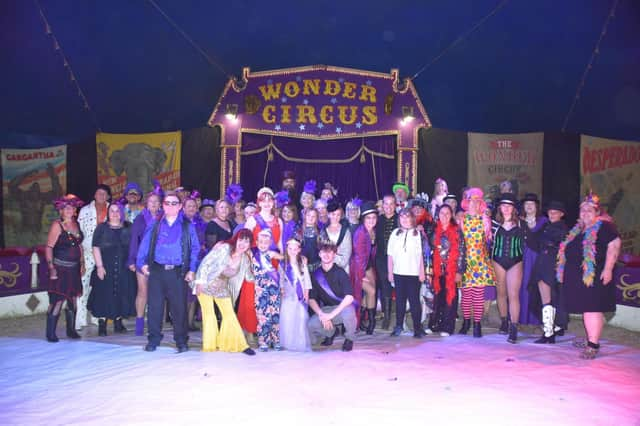 GALLERY: Stars shine for Big Night Out raising hundreds of pounds for charity
Hundreds of pounds were raised for charity when the region's stars performed for Skegness' Big Night Out.
Published 18th Aug 2023, 08:18 GMT
Updated 19th Aug 2023, 08:38 GMT
The show has become an annual highlight for the town's Wonder Circus, with owner Carolyn Roberts allowing the use of her Big Top for the everning.
Along with her polished circus performers offering acrobatics, juggling and balancing acts that had children in the audience screaming with delight were some of the best variety acts of the area.
Gary Starr, director of the Neverlands Theatre, returned to the Big Top spotlight as performer and ringmaster.
His sharp wit had even 'unhappy' people in the audience cheering and taking part in a Mexican wave – which for correctness now had to be called 'just a wave'.
And to the delight of his fans in the audience – whose screams he joked were at risk of spoiling his reputation as 'the most hated man in Skegness' – he joined the highly talented Lincolnshire Vocal Academy Choir in the finale for songs from the Greatest Showman.
Other notable performances were given by ventriloquist and magician JJ, the high energy Top Limitz Dance Academy and Savoy Variety Performers with 'The Little Mermaid. Local vocalists Doug Kennedy and Paul Wilson also gave up their time to perform.
Professional variety and children's entertainer Dee' Dee Lee managed the variety acts as well as performing, including her impersonation of Charlie Chaplin.
A charity auction in aid of the cancer charity Coppafeel was held in the second half, with auctioneer Bob Clifford and prizes donated by local businesses
Special guests on the night were the Mayor of Skegness, Coun Pete Barry; who opened the night and even joined in the fun in one act by taking part in a stunt jumping over a small car, Carnival Royalty and the Jolly Fisherman.
At £7 a ticket – and running more than an hour longer than expected – it was a great value night of entertainment. The Wonder Circus in Burgh Road is staying in Skegness for the summer with a £5 Bank Holiday Spectacular on August 28. Full details are on the Facebook page and tickets can be bought from Box Office.