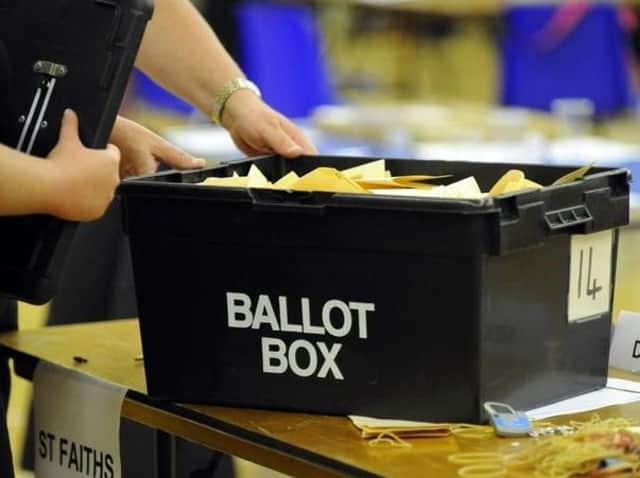 04:45 - That's it for tonight's live blog on the Louth & Horncastle constituency results. Please continue to keep an eye on the Louth Leader and Horncastle News websites for more news and analysis of the results. Thank you for reading.
03:40 - VICTORIA ATKINS (CONSERVATIVE) HOLDS THE LOUTH & HORNCASTLE SEAT.
Full results are as follows:
Victoria Atkins (Cons) - 38,021
Ellie Green (Lab) - 9,153
Peter Hill (Monster Raving) - 1,044
Ross Pepper (Lib Dem) - 4,114
02:45 - We understand that the declaration will take place within the next half hour.
02:25: Conservative candidate Victoria Atkins thanks all those who have voted, and says it's been a "really enjoyable campaign - despite the weather". She says two messages have come through clearly: "Get Brexit done and move on from this impasse" and "the worry, concern, and indeed anger towards Mr Corbyn has been quite noticeable". Victoria added that the exit poll is "very encouraging" and, if she retains her seat, she says she is looking forward to continuing to campaign for healthcare (particularly on the coast), broadband improvements, and championing our area - in addition to the passage of the Domestic Abuse Bill in her role as a Home Officer minister.
01:45 - Labour's Ellie Green says that she ran a positive campaign, which focused on local community issues like the NHS, restoring services at Louth hospital, and improving local education - including restoring secondary education to Mablethorpe and sixth form education to Louth. She had a 'very good, very friendly' local vibe on the doorstep.
Ellie admitted that exit polls are "usually quite accurate" and, if correct, "I would imagine that Jeremy Corbyn's leadership team will be considering their position, but it's not for me to tell him what to do, so we will have to see what they decide. However, she added that local issues such as health and education were the main concern of voters on the doorstep, rather than Corbyn or Brexit.
01:25 - Liberal Democrat candidate Ross Pepper said tonight's exit poll suggests a "very divisive Tory government" if it is accurate, and calls instead for a "open, tolerant, united Britain". Mr Pepper adds that he's had a positive reaction on the doorstep from those who do not wish to vote for the Conservatives due to their Brexit policy, or Labour for "flip-flopping" on the issue, and says that he believes Labour are in "deep trouble" as a result.
01:05 - The turnout in Louth & Horncastle is 66.07% with a total of 52,618 votes cast.
00:55 - The verification of votes is taking place now at the Meridian Leisure Centre in Louth. The counting is expected to take place at around 1.30am, and the declaration of the result is expected at some point after 3.30am. Follow this article for all the latest updates as the night goes on.